Blog: On The Plane To Austin, Follow /Film On Twitter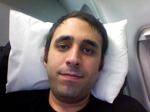 I'm sitting in an airplane at 5:45am, waiting to take off to Colorado, and then to Austin Texas, for the South By South West Film Festival. Someday maybe this job will afford me a direct flight, sans connections. This will be my first time at SXSW, as well as my first time in Austin, so it should be fun (I've realized that with these sort of things, the first time is usually the best experience). I'll have a much lighter schedule than I did at Sundance, and starting on Sunday, I'll actually have a second man (the incomparable Mel Valentin) on the ground in Austin with me providing coverage. And as always, Hunter will be picking up the slack, and filling in the gaps. So don't worry, we'll still have all the mainstream stuff covered.
At Sundance I didn't get to blog about my experiences as much as I would have liked, so expect more of that as well.
One other big site change: As you may have noticed looking at the button in the right sidebar, we've entered the 21st century and finally signed up for a Twitter account. We will be blogging throughout the day in Austin, and for the foreseeable future after that. So far we've been posting observations, and even once in a while posting on late breaking news before we are able to get in-depth coverage up on the site. So please visit twitter.com/slashfilm, and follow us or add our Twitter feed to your RSS reader. When we return from SXSW, we'll figure out a better way to integrate Twitter into the site.
Thanks for reading!
Peter Sciretta