Will Ferrell Talks Land Of The Lost, Old School 2, Elf 2 And A Confederacy Of Dunces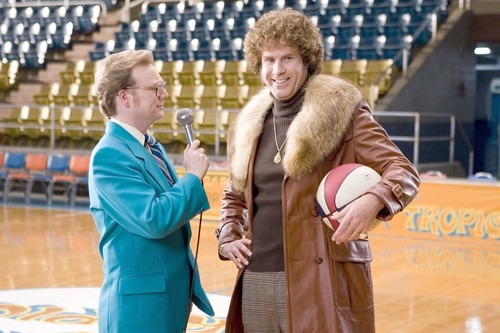 Will Ferrell's R-rated ABA romp, Semi-Pro, opens today and is expected to do boffo business. Buzz is good, but not spectacular. Nobody's calling the film a comedy classic, and it arguably could have been. Great source material. The actor took a time-out from picking his 'fro to chat with AICN twice about his upcoming mega-budget sci-fi comedy Land of the Lost, as well as eulogize a few other projects. Directed by Brad Siberling, who did Casper and Moonlight Mile, I'm still not sure what to expect from this 2009 film that pits Ferrell against CGI dinosaurs, especially when it comes to tone. Ferrell alludes to it being less like, I dunno, The Flintstones but doesn't clarify much more...
"[Land of the Lost] will be PG-13, which I understand why that is and yet we still want [edge]. ...It's right up to an R and we are going to pull that line with the studio, because I already had an experience with Kicking and Screaming. Kicking and Screaming was supposed to be more of a Bad News Bears type comedy and they kind of [made it lame and made it PG]."
One film that I think Ferrell is perhaps born to star in (but apparently will not) is a film adaptation of A Confederacy of Dunces, widely cited as one of the best American novels ever written. While I'm of the belief that The Catcher in the Rye should never be put to film, after seeing Stranger Than Fiction, a dramedy that is still widely underrated, I remain convinced that Ferrell can do justice to Dunces' main character, the eccentric, 30-year-old ne're-do-well Ignatius J. Reilly. A few years ago Ferrell was attached, along with Natasha Lyonne (a clever choice for the love interest Myrna Minkoff), with David Gordon Greene (The Pineapple Express, George Washington) to direct. Might it still happen...?
"As far as I know [an adaptation] is gone. ...It's a mystery. For some reason that's a very scary project for people to take on and I don't know why, but yeah I have no idea. The script...I loved it. ...I think that's such a big piece to tackle, that I think for a script, they didn't have every single scene in the book, but it was a really nice effort, but I don't know what to tell you."
And from a literary classic to a beer pong/bong classic, wassup with Old School 2?
"I read [the script]. Some super funny set pieces, but I don't know. I think Vince [Vaughn] had the same reaction. We're just kind of doing the same thing again. It was like us going to Spring Break, but we've got to find this guy who's the head of a fraternity. Once again, funny things but it's just us once again back in a fraternity setting. It just felt like it was repeating. But watch, I'm over thinking it."
And like a dingleberry stuck to a long and winding news item, Ferrell updates us about Elf 2: It's dead.
Discuss: If you had to spend eternity watching and rewatching a Will Ferrell sports comedy that still hasn't been made, would it be: The Untitled Will Ferrell Polo Movie or the Untitled Will Ferrell Sumo Wrestling Movie? I choose: UWF Polo.