New Pathology Teaser Trailer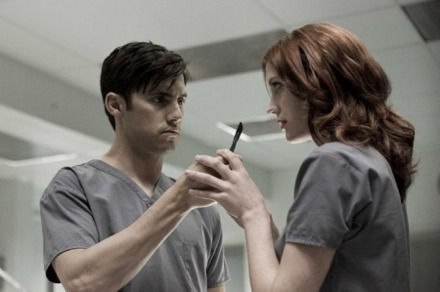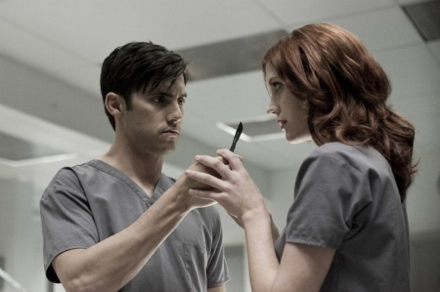 At last year's Comic-Con, Crank writer/directors Mark Neveldine and Brian Taylor brought a group of us into a room and showed us the trailer for Pathology. Mark and Brian, who wrote but didn't direct Pathology, came up to me after and wanted to know what I thought. Brian insisted that he didn't want to hear any sugar-coated bull-s***, and wanted my real opinion – good or bad. I thought for a second before responding, "That was really F***ed up," just like the guy said in this teaser. And with that they laughed.
Pathology has since been delayed at least a couple times, finally landing with an April 18th release date. To celebrate the new date, the boys have released a new teaser trailer which gives you a good sense of the very dark sense of humor contained in this film.
[flv:http://media2.slashfilm.com/slashfilm/trailers/pathologyteaser.flv 470 180]
Some say that Pathology is a window to God. As doctors, they see the perversion and corruption of the flesh by all means unnatural…by violence…by toxin…by madness…to determine the cause of death. As a result they are the experts in all signs of foul play and the best in the field can uncover all means of killing, even those that are seemingly undetectable.
When med school student Ted Gray (Milo Ventimiglia) graduates top of his class he joins one of the nation's most prestigious Pathology programs. With talent and determination Ted is quickly noticed by the program's privileged and elite band of pathology interns who invite him into their crowd. Intrigued by his new friends he begins to uncover secrets he never expected and finds that he has unknowingly become a pawn in their dangerous and secret after-hours game at the morgue of who can commit the perfect undetectable murder. As Ted becomes seduced into their wild extracurricular activities the danger becomes real and he must stay one step ahead of the game before he is the next victim.
Discuss: What do you think about this new Pathology Teaser Trailer?
source: TheMovieBlog