The Wackness In July 2008?!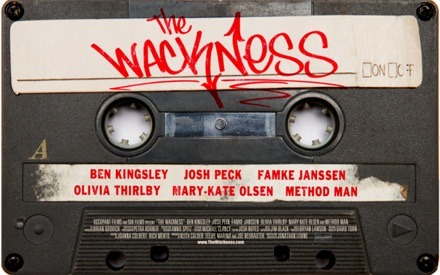 At Sundance, a bunch of the movie journalists covering the festival and myself were extremely shocked and disappointed to learn that one of our favorite films of the festival, Jonathan Levine's The Wackness, had been sold to Sony Pictures Classics. We really love this film and want to see it succeed, but Sony Pictures Classics is known as the place where "Good Movies Go to Die".
The only time Sony Pictures Classics is able to make money off a film is when the award buzz handles the publicity for them. They just aren't good at marketing films, plain and simple. I could impress on you the fact that in 2007, Sony Pictures Classics made only $39 million off 23 films, compared to other mini major specialty divisions like Picturehouse which made $60 million off 9 films, and Fox Searchlight made $216 off only 6 films. SPC couldn't even make $1 off Francis Ford Coppola's first film in ten years (good film or bad, that line should have sold itself). Only one of the 24 releases Sony Pictures Classics had in 2007 made over $10 million, and that's likely only because that film won an Oscar (ie the free award buzz translating into ticket sales).
In response to our criticism, Co-President of Sony Pictures Classics Tom Bernard told indieWire, "We're Not Looking For Home Runs". Which is stupid, because they have a potential indie grand slam on their hands. The Wackness has huge generational cult classic potential on the level of Zack Braff's Garden State, which took in $26.8 million in the U.S. The Wackness is not the type of film that Sony Pictures Classics is use to releasing.
So what date did Sony Pictures Classics choose for The Wackness? According to Olivia Thirlby, who talked to our friends at Collider, the film will be released in the middle of the summer movie season on July 3rd 2008. Note: we believe that Olivia probably meant to say July 2nd 2008, as the 3rd is a Thursday, and all the other films either hit theaters on Wednesday the 2nd or Friday the 4th. Either way, the point is – it's not a good date to release an indie film.
Disney/Pixar's WALL-E and Universal's comic book adaptation Wanted hit theaters less than a week earlier. The Wacknness will go head to head with Sony's Superhero comedy Hancock starring the unstoppable box office drawing power of Will Smith, followed up the next week by Hellboy II, Journey to the Center of the Earth 3D, and the Eddie Murphy comedy Meet Dave. The rest of July features a bevy of huge releases including The Dark Knight, Mamma Mia!, X-Files 2, Step Brothers, and The Mummy 3 on August 1st. Not to mention Fox Searchlight's 2008 big bet – Clark Gregg's adaptation of Chuck Palahnuik's Choke, which also opens within the month.
Releasing an indie like this in the dead center of Summer will not allow for the film to build and expand. Fox Searchlight, a company which knows how to handle these type of platform releases, launched Little Miss Sunshine in late Summer (nearly a month later), a time when all the big summer movies had already had a chance to cool down. The Wackness is the type of film which needs to catch the eye of the College crowds, and might have been better off with a date like this which would have allowed for an expansion in early fall. But the last Friday of July/first Friday of August is Fox Searchlight's magic date. They've had some incredible hits on that magic date. And unforutunately for Sony, they basically own the date (this year's release is Choke).