WonderCon: Get Smart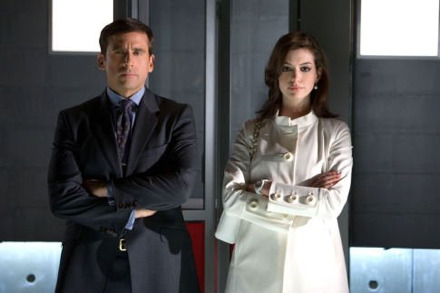 Wonder-Con premiered the newly minted trailer for Get Smart, the big screen adaptation of the 1960s television series created by Mel Brooks and Buck Henry that starred Don Adams and Barbara Feldman. It looked good, better than good. Now this is how you make you a trailer: mixing verbal humor, physical comedy, and large-scale action, along with callbacks to the original series, including multiple callbacks (e.g., repeated lines of dialogue).
Director Peter Segal (The Longest Yard, 50 First Dates, Anger Management) was on hand to talk about Get Smart. He started off the panel by saying he wanted to embrace the spirit of the original TV series and bring it up to date for contemporary audiences. Segal then introduced the co-stars, Anne Hathaway and Steve Carell to raucous cheers from the Wonder-Con audience. The Q&A started almost immediately.
One of the first questioners Carell asked whether he was writing anything new (he's written several episodes of his television series, The Office). Carell said he's not working on anything right now. As he's just completed two weeks of jury duty in Los Angeles, he's going to write or co-write an episode of the Office in which his character gets called on to serve on a jury. Given Carell's track record, it promises to be hilarious.
Another Wonder-Con attendee asked Carell about whether he'd change or modulate his voice to match Don Adams' easily recognizable delivery, especially the iconic sentences or phrases that have become synonymous with the character and the series. Hard not to do it like him, stands alone, but hard to get Adams' voice out of his head. From what we saw and heard in the trailer, Carell's delivery sounded like a mix between his voice and Adams' iconic voice.
Another attendee asked about Carell's start in improv comedy. Carell jokingly said he didn't want to learn any lines, so improv seemed like the right way to go, but it also just started out as fun, extracurricular activity that eventually segued into comedy and acting.
Another questioner asked Carell thought about doing trying different roles? Answer: Boston Strangler. As long as I get paid, I'm fine, said Carell, but he'll take whatever might be good or entertaining. Hathaway chimed in with Little Miss Sunshine.
Another attendee asked Hathaway what it was like to work with Carell on Get Smart. She said it was terrible, but quickly corrected herself to say she loved working with him (she was kidding, of course), generously calling Steve one of the comedic masters of our time and it was a pleasure and an honor to work with him. She did say that she was nervous improvising with Carell at first, but eventually got over it.
The next questioner asked about the for the possibility of a sequel, Segal said, "In case you like the movie, I'd like to come back for a sequel." Segal said was a fun set, great cast., and he'd love to work with them again.
Another questioner asked about the challenges involved in remaking/adapting such a well known, well-liked TV show. Segal reiterated that he wanted to bring the Get Smart characters and their universe to new audiences, but he also wanted to include enough callbacks to the series for fans (so he didn't really answer the question).
Someone else followed about Barbara Feldman and whether she'd make a cameo in the film, but apparently the answer is no. Other cameos from actors associated with the series have been promised, however. Segal seemed to dance around the question by saying that she never appeared on set, but perhaps she filmed her cameo separately (or not). Hathaway chimed in to say that she considers Feldman an idol and that it was daunting to step into her shoes. She described Feldman's portrayal of Agent 99 as kind, sophisticated, smart, and elegantly sexy.
Inevitably the question about Segal would do after Get Smart. Shazam, the big screen adaptation of DC's Captain Marvel (a.k.a., The Big Red Cheese), is still slated at his next project, but the start date has been delayed due to the writer's strike. Screenwriter John August is back working on the script, however. Dwayne "The Rock" Johnson is still pegged for the role of Captain Marvel's nemesis, Black Adam, but Segal didn't mention any other casting decisions. Given Segal's track record (comedies), a big-budget, effects-laden film doesn't seem like his thing, but maybe he'll surprise us. Hopefully, he won't make it so kid-friendly that he'll alienate adults and fans of the character.
Someone asked the panel what movies inspired them to get into filmmaking. Hathaway said Auntie Mame. Segal said Young Frankenstein remake. For Carell, Dr. Strangelove. Seriously. And with that, the Get Smart panel gave way to Disney (e.g., The Chronicles of Narnia: Prince Caspian, Wall-E).