David Fincher To Direct Graphic Novel Adaptation Black Hole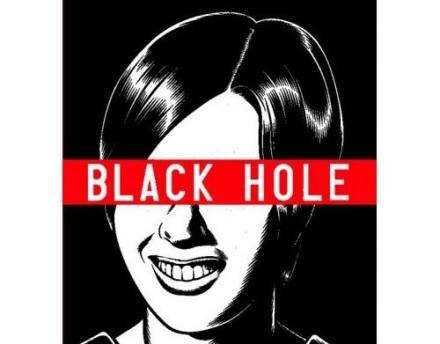 Update: Neil Gaiman said on his personal blog yesterday that he is still co-writing the Black Hole script with Roger Avary. Seems rather stoked on Fincher's involvement as well. Thanks to /Film reader 'Nancy.'
"David Fincher tackling STDs, not like herpes, worse," is the imagined, beaded brow pitch to the studio. It worked. The director of the Oscar-shunned modern masterpiece Zodiac, as well as Fight Club, is attached to direct a film based on the comics-turned-acclaimed graphic novel, Black Hole, by Charles Burns. Brad Pitt's Plan B is producing the project, but like DiCaprio's Akira, no official word if Pitt is involved to star. Roger Avary and Neil Gaiman were set to adapt the screenplay in 2006, but no word if Fincher is doing his own thing here.
Set in the '70s, Black Hole is a 12-issue comic that followed teenagers who spread "the Bug," a fictional, incurable STD that causes the sexually-active to develop horrific physical deformities, as well as those who didn't catch it but reacted to the plague. As you might expect, this turns the infected teens into social outcasts, and the plot synopsis at publisher Pantheon Graphics reads, "What we become witness to instead is a fascinating and eerie portrait of the nature of high school alienation itself – the savagery, the cruelty, the relentless anxiety and ennui, the longing for escape. And then the murders start."
Fincher's next theatrical release is December's The Curious Case of Benjamin Button starring Brad Pitt, which is already receiving almighty buzz. Unlike Paul Thomas Anderson's There Will Be Blood, I don't think Fincher has crafted his end-all-be-all American classic yet. And while Black Hole sounds too fun and twisted to be it, I hope he'll next be gearing up for the serious sci-fi epic Rendezvous with Rama, one of several projects he's latched to, another being the Eliot Ness serial killer flick Torso. But a Fincher Ghost World, are you friggin' kidding? The eclipse has played into some strangely bi-polar news today, and this may be the peak of awesome.
Of note, Alexandre Aja was originally on board to direct this, but he has other fish to fry (and can I just add that a mere two /Film comments for his upcoming Piranha 3D periodically had me questioning life?).
Along with Blankets, Black Hole has been in my "graphic novel requisite procrastination" queue on Amazon for at least six months. I didn't realize it was originally published by the long-gone Kitchen Sink Press, a company I fondly remember back in the day when I bought comics, if only for seeing its Crow titles amongst the latest The Maxx and Pitt. Damn, this is going to be cool flick, nostalgia can take a hike. And shout out to Paramount Pictures for booking Fincher for three flicks in a row now. That rocks.
Discuss: With Black Hole, will David Fincher do for sex what Darren Afonofsky did for hard drugs and Keith David in Requiem for a Dream?
Source Link: Variety