Pathology Release Update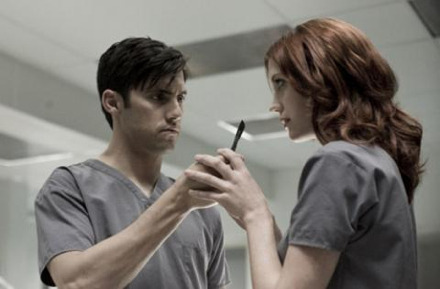 At Comic Con 2007, Lakeshore Entertainment premiered the movie trailer for their upcoming crime horror thriller Pathology. Written by Mark Neveldine and Brian Taylor, the madmen behind Crank, and starring Milo Ventimiglia.
Since the Con, the release date of Pathology has been pushed back a couple times. The most recent announced Valentine's date was replaced with a TBA blank. So what's going on with Pathology? My friend John Campea at the movie blog had a chance to sit down with Neveldine / Taylor during his radio show/video podcast, and was able to get a few answers:
Brian: "We don't have a date for it right now because we weren't happy with the situation, where it was going to come out, how it was going to be released, so we're rethinking..."
Mark: "But we're way psyched on the movie. Milo loves it. We love it. It's going to kick ass. We can't wait for people to see it, we just need to figure that out."
The guys assure us that Pathology is definitely getting a theatrical release "hopefully within the next couple months." The filmmaking duo also revealed that Milo Ventimiglia makes an appearance in their next film, the Gerard Butler sci-fi action film code-named Game, under the name Rick Rape (i kid you not).