Director Carter Smith Talks Ending, Sequel To The Ruins And Troll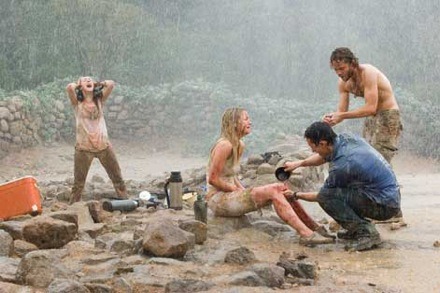 In going along with Peter's "rant" about what constitutes a spoiler on the Internets, I'm not sure if the following quote from director Carter Smith about The Ruins is one or not. If you've read the book by Scott Smith, it's definitely not, and the info should please you. But if you haven't, you'll know what's in store to a certain degree this April if you see the post-college dread horror thriller set in Mexico starring Jena Malone. With that out of the way, Smith tells Bloody Disgusting he doesn't see a sequel in the cards...
"I haven't talked at all about a sequel [to The Ruins]," says Smith. "Audiences are so jaded these days that they just assume it's set up for a sequel, while the ending you saw was about keeping the integrity of the darkness," he explains. "That was what I loved about the book was that it was so bleak and dark... I couldn't believe it ended the way it did, it took me by surprise."
See, to me, I'd rather not know if a film's ending is the opposite of a walk into the sunset before I see it. You? And if the ending leaves ambiguity for a sequel, even more so. Such endings are a turn-off to me. I'm curious to see if The Ruins connects, as a sort of mid-brow Touristas, but either way, it seems Smith won't have difficulty with a creative follow-up, mentioning Troll (apparently not a remake of the 1986 cult flick and unrelated to this same-named 2009 film) and Come Closer as his candidates.
"There are a couple projects I'm working, a adaptation of a book called Come Closer, by Sara Gran," he continues, "[It's] the story of a New York women who becomes convinced she might be possessed by a demon. Then there's a book that I adapted into a screenplay called Troll, [which is] a very adult fairy tale. [It's] Strange dark cross between E.T. and Lolita."
Wow. I'm on Team Troll, there is no doubt.