V-Day Box Office: Step Up & Jumper In A Virtual Dead Heat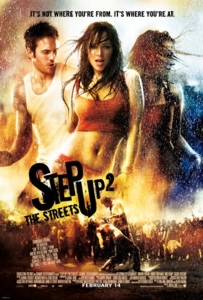 Step Up 2 the Streets (Disney) appears to have edged Fox's big budget Jumper on Thursday, although technically, it's a bit too close ro call the race definitively. The urban dance sequel has averaged an estimated $2,500 per location on its opening day for what looks to be a $6.175M total. The big budget sci fi/adventure flick starring Hayden Christensen and Samuel L. Jackson meanwhile has grabbed an estimated $6.03M Valentine's Thursday for a softer $1,775 or so per screen.
The unusual Valentine's Day kickoff to a 5-day weekend that includes President's Day has provided a perfect opportunity for Fool's Gold (Warner Bros) to jump-start its 2nd week as the Matthew McConaughey/Kate Hudson romantic comedy/action hybrid delivered another $3.42M, a 3rd place finish. Gold's 7-day total is just shy of $30M.
2 new releases occupy the #4 and #5 spots. The well-reviewed Ryan Reynolds romantic comedy Definitely Maybe (Universal) has gotten off to a disappointing start with an estimated $2.78M or $1,276 per location. Paramount's fantasy film The Spiderwick Chronicles rounds out the top 5 with $2.21M or so. With an expected surge in family business Saturday, Sunday and Monday, Spiderwick should finish no worse than 3rd in the competitive 5-day frame.
EXCLUSIVE FANTASY MOGULS EARLY VALENTINE'S DAY ESTIMATES
1. Step Up 2 the Streets (Disney) – $6.175M – $2,500 PTA – $6.175M cume
2. Jumper (Fox) – $6.03M – $1,775 PTA – $6.03M cume
3. Fool's Gold (Warner Bros) -$3.42M – $1,095 PTA – $28.8M cume
4. Definitely Maybe (Universal) – $2.78M – $1,265 PTA – $2.78M cume
5. The Spiderwick Chronicles (Paramount) – $2.21M – $575 PTA – $2.21M cume
6. Welcome Back, Roscoe Jenkins (Universal) – $1.9M – $798 PTA – $20.1M cume
7. Juno (Fox Searchlight) – $840,000 – $451 PTA – $119.5M cume
8. The Bucket List (Warner Bros) – $785,000 – $340 PTA – $76.9M cume
9. The Eye (Lionsgate) – $745,000 – $350 PTA – $23.1M cume
10. 27 Dresses (Fox) – $665,000 – $348 PTA – $66.8M cume
11. Hannah Montana/Miley Cyrus: Best of Both Worlds (Disney) – $525,000 – $766 PTA – $55.1M cume
12. There Will Be Blood (Paramount Vantage) – $365,000 – $259 PTA – $27.9M cume
Read More at Fantasy Moguls.