Alexandre Aja's Piranha Goes 3D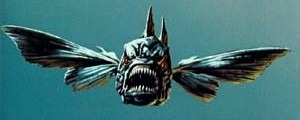 We at /Film haven't mentioned Alexandre Aja's 2009 remake of Piranha until now, but something about this project feels incredibly spot-on to me. As Mickey Knox would say with a deranged grin and a smack of his chewing gum: "It's fate." STYD has received word that the film will now be shown theatrically in 3D. Are we really going to be privy to reaching out and swatting away thousands of fresh water Jaws imitators chewing viciously at the knees of nubile, arrogant life guards? Even if you think the yo-yo scene in Friday the 13th Part III was a complete jip, and passed on Beowulf, how can you not want to see this?
Here's a list of reasons to persuade you: 1) Aja's High Tension had several beautifully intense, stylish, macabre and original scenes for a modern horror film, but he lost control of the film's more serious tone. Piranhas are tone-deaf. 2) The release is July 24th, 2009, which is perfect. Summer camps, rope swings over the water, night swims et al. Tis the season of Jaws, tis the times of less adventurous, more localized family summering. And in these movie months of overcompensating comic book movies et al, Piranha already has a built-in old school charm we've long missed. More $200 million robot drama? Another movie based on toys? I want to watch a 3D movie where huge audiences continually scream and laugh at killer fish. 3) It's a remake and while the 1978 Joe Danta/John Sayles original has its champions (and it's worth a watch), c'mon, this is not sacrilege. This movie needs to be remade. This movie was made to be remade. 5) The log line: "In Lake Havasu, Arizona, a tremor causes the lake's floor to open, setting free scores of prehistoric piranhas." 6) Piranha-vision 7) Sharks finally get a vacation. 8) What a ticket-stub.