Corey Haim Joins Lost Boys 2!!!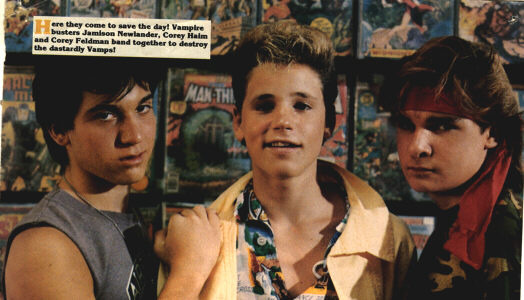 "Man-Thing No. 2, got it."
Some of you are no doubt slumming it in the gutter of your manse's bowling alley this weekend nursing a fifth of vodka and eternal questions, but right now the Monkees' "Now I'm a Believer" is ringing in my ears like percussive cheese because: Corey Haim is filming his scenes for The Lost Boys 2! He's in it to win it. Break out the peach trench coat and bring back the Giant Bedroom Swatch Watch! The photo above is happening again, and right now some dude is getting the image tattooed across his shoulders as a M.U.S.C.L.E. Man squeals on the sax on the beach. What happened to : The Tribe, you ask? It's dead to me. The well-lit '70s-era marquee in my head is a trend setter.
STYD reports that Haim has returned to his best character, Sam Emerson, and is now filming scenes for the film that were originally in the script. Director P.J. Pesce is filming the additional scenes, and co-star Corey Feldman is said to be involved, which means that the duo's ongoing tension is not botching the reunion. Can you imagine a film where both Coreys appear but don't share a scene like Bruce Willis and Uma Thurman? The world knows no such lows.
Corey Feldman dropped some foreshadowing, ruby-colored chum in the deep waters on his meta-blog, The Feldman Journal, a few days ago saying...
"I did my ADR for the film a couple of days ago and it looks really good all cut together. Rumor is circulating that we may be doing some additional photography for the film, assuming pick ups or scenes from the script that we didn't initially get around to. Which to me is a very good sign, because the studio usually doesn't bother if they don't really likea film. So it seems your positive energy is working. I also got a chance to see some of the treatments for the comic book series and I can promise you it will help fill the gaps between films in a very cool way…..you will not be disappointed!!"
He additionally implied that The Lost Boys 2 is headed theatrical...
"I want to say that I have been shocked and overwhelmed with the movement that you all have created on behalf of LB2 going theatrical….it's amazing how dedicated you guy's are to the cause. Apparently there are several on-line petitions going on created by you the fans and they are really gathering momentum. I would like to thank each and every one of you who has taken the initiative to do this. It has been so overwhelming that last week we received phone calls from the studio asking if I was behind this."
He went on to not mention Slash Film's (Hunter's) deep undercover involvement in this campaign. I'm giving it all I can, Captain. And filming for the second season of The Two Coreys is ongoing, which, in my opinion, is an amusing, genuine, and amazing marketing stunt for The Lost Boys 2, but don't quote me in Blog Court.
Why does this film matter? Let me say this: After watching Rambo (10/10) and a few days later watching There Will Be Blood (10/10, um, I'm trying to review it) incredibly stoned, I want theatrical Nirvana in my lifetime. I want to sit on clouds and bask in colorful '80s pulp dug up from amazingly confident dirt and given neon injections + I want to shiver in the glory of only-in-'07/'08 There Will Be Blood life-slap bug-outs. During my first visit to the DMV, I remember the smells, the instructors, the videos. I remember looking at my friend who passed when I didn't (due to "negative attitude"), and I remember thinking W.W.C.H.D. I am able to drive an Audi because of Corey Haim. I want to watch him smile again with his mouth half-agape, eyebrows raised and the sound of a "Ahh, Ahh, aHah." That sound/(emotion?) got me many a hot girl when I was too young. Warner Bros. better release this in theaters. That is nearly a threat.