Juno: The Video Game?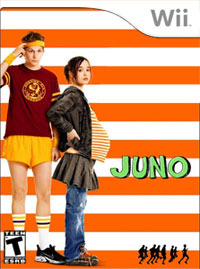 During the opening session at the D.I.C.E. Summit in Las Vegas, former Eidos Interactive president and current intellectual-property migration specialist Keith Boesky said, "People are making games based on Juno just to cater to the [casual] market." The world of video game blogs went crazy, reporting that Eidos Interactive was making a video game based on Fox Searchlight's little indie dramedey which has unexceptionally killed at the box office.
A Juno video game?
Honest to blog?
Nope...
Boesky later clarified comment, saying that he referenced Juno as a model. As in the "low-budget, small break out" model. Boesky even claimed that he hadn't even seen the movie.
I'm one of the biggest fans of the film, but I'm still left wondering: What would you even do in a Juno video game? Maybe it would be a point and click game like Monkey Island where instead you walk around and crack whipsmart sarcasm filled dialogue?