Editors Blog: Getting Over The Bug, The Wonders Of Wireless Internet, And Paramount Lawyers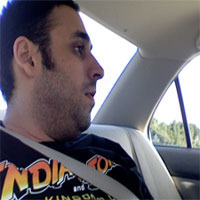 I love my cell phone wireless internet card. I don't know how I would have survived Sundance without one. It's an amazing thing to have the ability to be online anywhere.
Right now I'm on the way to SFO to pick up a friend from the East Coast from the airport. And I'm blogging while on the highway (no, I'm not the one driving). My fever is officially gone, although I wouldn't wish my current coughing fits on anyone.
I'm wearing my Indiana Jones and the Kingdom of the Crystal Skull t-shirt to celebrate a new milestone. Today I was contacted not once, not twice, not three, but four separate times by Paramount and their respective legal reps concerning photos of the Crystal Skulls which have leaked online. We get legal letters from movie studios all the time. But Four letters/calls is kind of excessive, especially considering we have a contact at the studio who usually deals with us personally (and yes, we got a call from her too).
/Film is one of a billion websites which posted the photos. We actually weren't even the first, second or third site to post said photos, but George Lucas and friends want them down immediately and we quickly obliged. If you still want to see the photos, they are easy to find on the interwebs (remember, they were posted on a billion websites). I hear you can probably use "the google" to find them.
Anyway, I'm now at SFO and have to pick up my Albino friend. Ill be back later with more news updates.