Taken Movie Trailer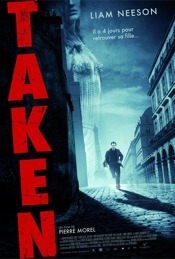 You might be wondering, what is Taken? I'm not talking about the Steven Spielberg produced alien abduction miniseries from a few years ago.
I'm talking about the new french triller from District B13 director Pierre Morel, based on a script co-written by Robert Mark Kamen (The Transporter) and Luc Besson (The Professional). Liam Neeson stars as a father who goes on a manhunt after his daughter is kidnapped in Paris.
Taken is set to be released overseas in February 2008, and currently doesn't have a U.S. release. I don't see why Fox wouldn't release this film in the states. It looks like it has  lot of American sensibilities, a great cast, intense story, and fantastic cinematography. Watch the trailer below.
[flv:http://media2.slashfilm.com/slashfilm/trailers/taken.flv 470 198]