Watchman Gets Renamed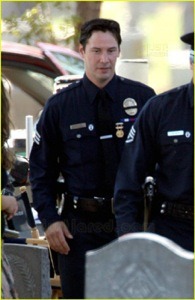 After months and months of people not in the know asking me "Is Keanu Reeves in Watchmen?", Fox Searchlight Pictures has finally realized their upcoming film The Night Watchman posed a marketing challenge which was sure to create confusion in consumers, especially with buzz growing for the Warner Bros/Zack Snyder adaptation of Alan Moore's epic superhero tale Watchmen. So Searchlight have decided to do the right thing and rename the film "Street Kings". Besides, I'm pretty sure that the script for The Night Watchman was penned way after the Moore graphic novel was available in book stores. Although it should be noted that the film is based on a story by  James Ellroy. I do remember this film floating around the development ponds for a few years now, once attached to Spike Lee, than Oliver Stone in 2005.
Street Kings stars Keanu Reeves as Tom Ludlow, a veteran LAPD cop who finds life difficult to navigate after the death of his wife. When evidence implicates him in the execution of a fellow officer, he is forced to go up against the cop culture he's been a part of his entire career, ultimately leading him to question the loyalties of everyone around him. The film also stars Forest Whitaker, Hugh Laurie, Chris Evans, Naomie Harris, Jay Mohr, John Corbett, Cedric the Entertainer, Amaury Nolasco, Terry Crews, Common and The Game. Street Kings will hit theaters on Friday, April 11th 2008.