Forgetting Sarah Marshall Red Band Movie Trailer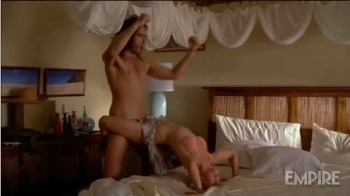 Empire has the Red Band trailer (read: unrated) for the new Judd Apatow comedy Forgetting Sarah Marshall. It's not really too different from the theatrical trailer, but includes Kristen Bell in a bikini in a sex scene, which makes it completely worth checking out. I'm still not completely sold on this one, but the last time I said that was with Walk Hard, and I ended up loving that film (too bad no one saw it).
From Undeclared screenwriter Nicholas Stoller, comes the story of Peter Bretter (Jason Segel), who takes a Hawaii vacation in order to deal with recent break-up with his TV star girlfriend, Sarah Marshall (Kristen Bell). Little does he know Sarah's traveling to the same resort as her ex… and she's bringing along her new boyfriend. The film also features Apatow regulars Jonah Hill, Paul Rudd and Bill Hader.
Watch the Red Band Movie Trailer Now! 
Forgetting Sarah Marshall hits theaters on May 30th, 2008.