The Happening Movie Trailer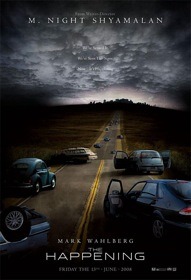 I know, everyone loves to unload the hate on M. Night Shyamalan. I agree, his recent batch of releases have been subpar, but we must keep reminding ourselves that this guy made two or three really solid movies. I believe he has more in him, he just needs a good producer to help edit his visions down. He needs people on the staff willing to tell him how stupid he will look on screen as the writer who is supposed to be the savior of the world. I think Fox is giving him one last chance, and Night actually feels he has something to prove (which is much better than the "F–k them, the people love my stuff" attitude").
The Happening is a paranoid thriller about a family (Mark Wahlberg, Zooey Deschanel) on the run from a natural crisis that presents a large-scale threat to humanity. John Leguizamo also stars. This teaser gets me excited. I love New York City disaster films. Only problem is that the teaser is playing off too much of New York City going nuts, when I hear most of the film takes place in a greener environment. I'm also weary because friends have told me that this is one of Night's "Faith" based films. The poster even looks reminiscent of the born-again Left Behind series. Watch the trailer below and tell me what you think.
Removed at request of Fox