88 Minutes Movie Trailer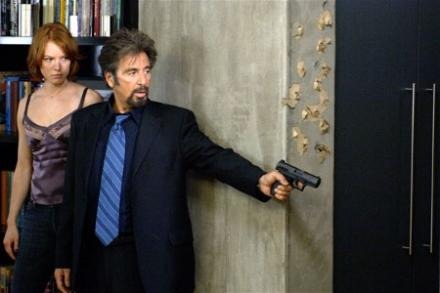 Ladies and gentlemen, what we have here is a robbery. I saw 88 Minutes on the new release shelf of a movie rental store last summer and it is, without question, a straight-to-DVD Al Pacino vehicle and already pinned as the worst film of his career. And now, today we have a new trailer because Columbia Pictures has reached the awesome decision to release it theatrically on April 18, 2008.
Watch it (the trailer, I'd boycott the movie) to see Pacino doing his Heat schtick in the dark while wearing the worst tie of his career and being threatened by a Scream-like killer who says "Tick, Tock, Tock" not once but twice, and the latter time it's presented even deeper like it's a legendary one liner. Pacino often gets lost, but Alicia Witt, what happened? Do not defend this trailer/movie in the comments.
[flv:http://media2.slashfilm.com/slashfilm/trailers/88minutes.flv 470 254]
You can also watch the trailer in High Definition on Yahoo! Movies. 88 Minutes hits movie theaters on April 18th 2008.