Sundance Movie Review: Choke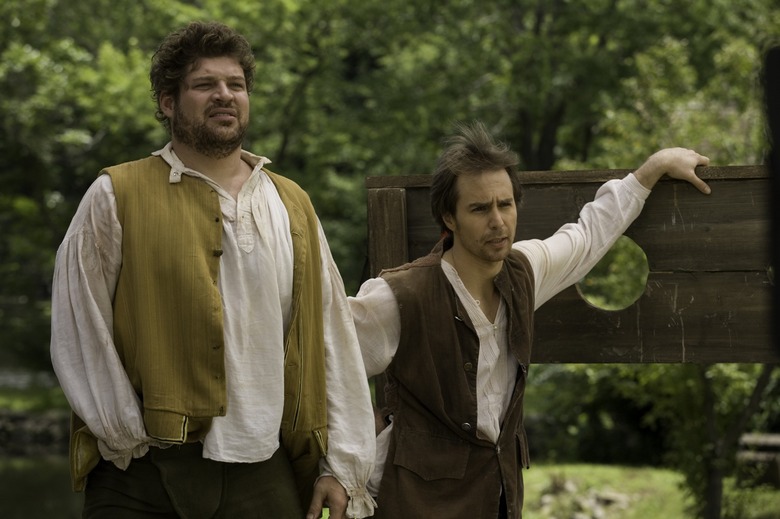 I liked the last two Harry Potter films more than people who hadn't read the books. I've also noticed that the only people that seemed to like The Da Vinci Code were those who had read the Dan Brown books. Is it because they were hardcore fans with too much time invested, or is it that they could fill in all the wonderful blanks which were cut to take the story to screen?
Chuck Palahniuk is my favorite author, and I've been waiting a long time to see  Choke adapted to the big screen (and even longer for my Palahniuk favorite Survivor). Most people know Palahniuk as the author of Fight Club, which was adapted to the screen by David Fincher. A favorite of many people of my generation, Palahniuk has developed a huge cult following among young men and women. Choke is probably my fourth favorite book of the bunch, yet I'm shocked that this is the second movie adaptation. Especially considering the dark nature of the book which includes sex addiction and religious themes that is likely to upset any serious catholic.
Truth is that you couldn't make Choke into a movie unless you did it independently on a small budget. And that is what they did. Made for $3.4 million, and filmed over the course of 25 shooting days in New Jersey, Choke looks nothing like Fincher's film. I must admit, it doesn't look like anything I ever imagined it would be, probably due to the budgetary limitations. That said, I loved every minute of this movie.
Sam Rockwell is everything I imagined Victor Mancini would and could be. He plays the part perfectly, and is the reason why this film works so well. Kelly Macdonald is wonderful as Paige Marshall. The cast is the best it ever could have been.
As a fanboy of the book, I'm finding it easier to voice my minor nitpicky complaints over offering up praise. So let me get through a couple of my issues. The book's opening chapter is one of the best opening chapter's I've ever read. The narrator attempts to convince the reader not to read the book. That his life is not worth reading about. I think they missed a huge opportunity by not translating this into a "Leave the theater now, shut off the DVD, this movie isn't worth watching" opening voiceover. Also, writer/director Clark Gregg decided to abandon use of the voiceover shortly after the first act. I think this is a big mistake as the voiceover in the novel is one of the reasons it was so great. And this is evident in the sequences which involve voice over early on in the film. I'm not quite sure that the flashback sequences to Vincent's childhood was well explained for those who had not read the book. And I also found some of the musical score (not soundtrack) to be too loud and corny. I hope they also get rid of the interstitial they use between flashbacks and flashfowards, as it seemed way too cheesy for this type of movie.
Choke shocks, offends, entertains and might even make you cry. Clark Gregg's adaptation will please fans and non-fans alike. At only 85 minutes, I only wish the film could have been longer. I hope that some distributor has the guts (no pun intended) to pick this film up and give it a proper release.
/Film Rating: 8 out of 10