Sundance Movie Review: Smart People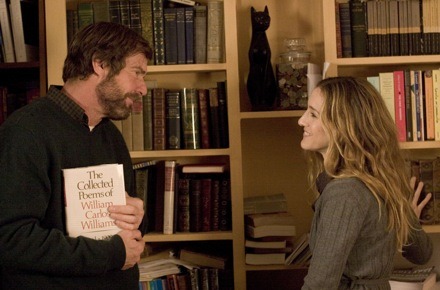 Dennis Quaid plays Lawrence Wetherhold, a miserable and pompous college professor who suffers a head trauma while trying to jump the fence at a car impound lot. Unable to drive himself around, his screw-up adopted-brother Chuck (played by the incomparable Thomas Haden Church) moves in and becomes his personal chauffeur (if he can ever remember to pick his brother up). Chuck tries to expose Lawrence's conservative daughter Vanessa (Ellen Page) to beer and drugs, and in the process, a complicated relationship develops. Meanwhile Lawrence falls for his Doctor Janet, played by the ever-so annoying Sarah Jessica Parker, and in the process, must find a way to cure himself of his unhealthy obsession with his deceased wife.
Page's Vanessa is a snappy sarcastic smart aleck 17-year-old. Imagine if Juno were less indie/punk and more conservative / school smart. Page steals every scene she shares on screen. Church, also an attention hog (in a good way) is ever so charming as the lovable loser. Screenwriter Mark Poirier is all over Hollywood in a non-Diablo Cody way. Poirier is set to make his feature directing debut for Paramount with his script, Bong Hits 4 Jesus. Commercial turned Feature director Noam Murro makes a fantastic debut.
If there were one complaint about this film, it would be that the supporting storyline featuring the complicated relationship between Page and Church was far more interesting than the main romantic storyline. In fact, I would love to see a movie about those characters in that kind of situation, where more time could be devoted.
I must admit, I wasn't expecting much from Smart People, but left the theater with a large grin in hand. This is a wonderful movie, not on the level of Juno, but up there next to Little Miss Sunshine.
/Film Rating: 8 out of 10