Darren Lynn Bousman Plans For REPO Franchise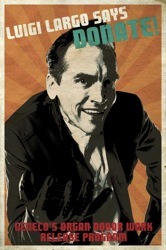 Darren Lynn Bousman just finished editing REPO! The Genetic Opera!, but the SAW series director is already talking about sequel possibilities. In his latest blog entry, Darren writes:
"If I have my way – I am only leaving one franchise to start another! Maybe this time next year as SAW VI is gearing up – I will working on REPO II... One can only dream..."
Bousman also talked breifly about his visit to the SAW V production offices, and his meeting with David Hackl, who will be taking over the series.
"I have to be honest – it's a hard pill to swallow... Handing over the baton – - passing the torch – - call it what you will... But for the last three years SAW has been my life... Last week, they opened up the preproduction office for V. It feels strange not to be there... It feels even stranger knowing that those production offices are only two blocks from where I am now... But, I feel confident in the fact that the franchise is in great hands with David – and that it was time for me to move on..."
Repo! The Genetic Opera! will hit theaters later this year. SAW V will hit theaters on October 24th 2008 (because, "If it's Halloween, It's SAW").