Sundance Blog: Flying To Park City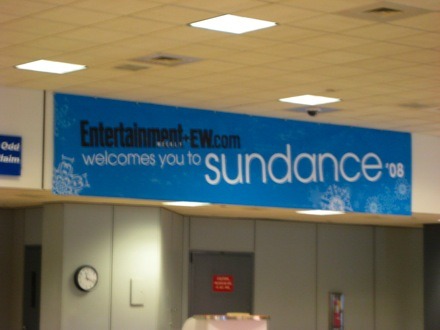 I'm at the airport waiting for a plane to Park City, Utah. January is usually considered a horrible time for new movie releases, but it's my favorite time of the year. For the last five years I've been making the trip to the Sundance Film Festival. For a film fanatic, Sundance is the greatest place on earth. For ten days, Hollywood and filmmakers gather in a little ski town to show some of the best movies of the year, or next. Sometimes it takes as long as three years for a film which premieres at Sundance to get a theatrical release. So Sundance is an ultimate sneak preview, a look at tomorrow's talent today. Sundance is an exciting time/place to be a film geek.
I have spent the last few days stocking up the freezer with feature posts which will go live in the coming week. So you can still expect our daily "Cool Stuff" feature, and a couple other surprises. Don't worry, our mainstream news coverage won't come to a end. Hunter will be covering up for my absence. I'll be checking in daily with reviews and blogs like this one. You may have noticed the new square button right below our logo. We've added a page which will be a one-stop-shop for our Sundance coverage. So if the content is moving fast on and off the front page, you can always check there for all my festival coverage.