Alien Photos From Stephen Chow's CJ7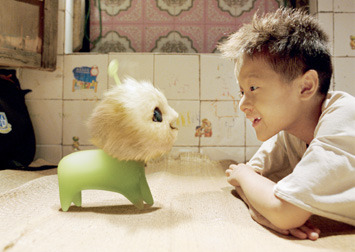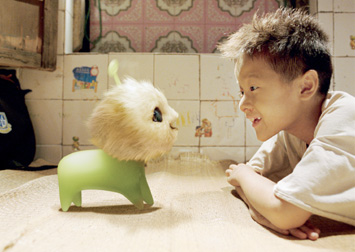 Last November's trailer for director Stephen Chow's $20 million extraterrestrial critter film CJ7 succeeded in drawing comparisons to E.T., and smartly kept its titularcritter tucked inside a UFO while a hyperactive kid acted a fool. Today, JoBlo got a hold of the first alien "pet" pics from the subtitled kids' film set for release on March 8 in North America. My first impression is that it looks like a Maltese show dog bred with a fancy Chia Pet, but who knows, maybe that's what was seen flying over Texas. Here's the plot synopsis...
Ti (Stephen Chow) is a poor laborer father who works all day, everyday at a construction site to make sure his son Dicky Chow (Xu Jian) can attend an elite private school. Ti can't afford to buy Dicky any expensive toys and goes to the best place he knows to get new stuff for Dicky â€" the junk yard! While out "shopping" for a new toy for his son, Ti finds a mysterious orb and brings it home for Dicky to play with. To his surprise and disbelief, the orb reveals itself to Dicky as a bizarre "pet" with extraordinary powers. Armed with his "CJ7" Dicky seizes this chance to overcome his poor background and shabby clothes and impress his fellow schoolmates for the first time in his life. But CJ7 has other ideas and when Dicky brings it to class chaos ensue.
The film is reportedly the first time a Chinese production will feature a fully rendered digital character and Chow, who also directed Kung Fu Hustle and Shaolin Soccer, says the special effects are "up to international standards that will withstand comparison." How meta would it be if the poor laborer father and half of China ended up making CJ7 toys as the sugar-addict son went on zany adventures across the universe? On the acting front, Chow is still rumored for the part of Kato in Seth Rogen's 2009 flick The Green Hornet, and recently offered a part to Will Smith in his proposed $100 million adaptation of the Chinese fantasy book The Journey to the West.
More pics after the jump.