WETA Joins Justice League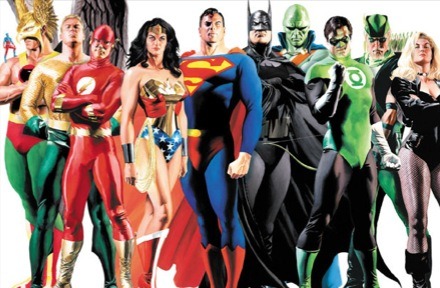 Let's forget everything we think we know about the Justice League film for a second and look at the facts: George Miller, the guy behind Mad Max and Babe, is attached to direct; the screenplay is from two unproven writers; Christian Bale and Brandon Routh are not in it; and as of today Peter Jackson's Weta Workshop is a lock to create the slew of iconic costumes for the 2010 tentpole. Knock, knock, it's Adam Brody from The O.C. as the Flash. Get out Brody! You're not a fact. You're just "probably true"! Call me bonkers, but I'm not ready to trash this project yet, pretty no-name faces attached. Even with moderate expectations, I say some spectacular visuals from Miller's vision the likes we haven't seen before are guaranteed; and if they're PG visuals, so be it.
Producer Barrie Osbourne (LOTR, Face/Off, The Water Horse) confirmed the involvement of the physical-effects arm of Weta to The Dominion Post and stated that Weta Digital might join the project at a later date.
"They are doing all the costumes and they're doing a brilliant job. A lot of people thought it would be too hard, that you can only make those things in Hollywood."
Osbourne also lent his full support to the project, saying…
"George Miller has a great take on the material, so it elevates it to something that's not a comic-book movie," he said.
Does Weta's involvement in any way change your hopes for the first movie that will see Batman, Superman, Wonder Woman, Green Lantern, the Flash and Aquaman together on screen?