Cool Stuff: 8-Foot Tall LEGO R2-D2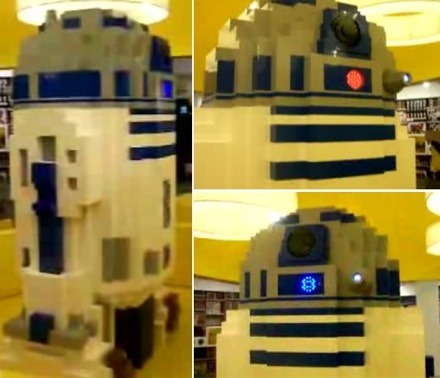 LEGO Master Model Builder Dan Steinenger constructed this giant 8-foot tall R2-D2 unit as part of the recent Festival of the Masters event which happened from November 9th to 11th at the LEGO Store at Downtown Disney in Orlando, Florida. Steinenger was assisted by children visiting the store. The R2 droid squeaks with sampled sound effects from the Star Wars films, and blinks red and blue with LEDs. Watch the video below to see R2 in his full beeping glory.
Dan Steininger has been working for LEGO for 14 years now. His first big LEGO project was building a 25-foot-tall clock tower model for the LEGO Store at the Mall of America. Steininger currently works at the LEGO Model Shop in Enfield, Connecticut as a Master Model Builder.
via: Gizmodo