Cool Stuff: The Star Wars Vault - "The Coolest Book Of 2007!"
We may receive a commission on purchases made from links.
This Christmas I received one of the coolest gifts I've ever gotten from my friend Elaine (not to give her too much credit as I picked it out – it was actually one of those "You show me what you want I'll show you what I want" type of deals). The gift in question is a HUGE hardcover table top book called The Star Wars Vault.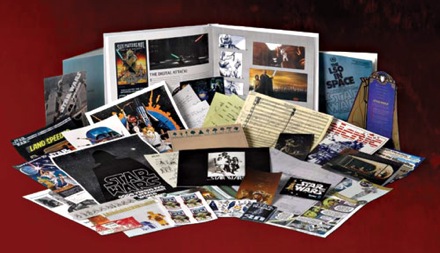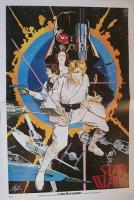 The coolest thing about this book is it isn't just a book, it's a collection of "50 interactive, rare and some never-before-published memorabilia, including reproductions of Lucas's own handwritten script pages, flip-through catalogs, swag, posters, T-shirt transfers, tattoos, stickers, blueprints, production notes, animation cells and much more!" It also includes "2 CDs containing over 2 hours of vintage radio ads, original cast interviews, excerpts from the NPR Star Wars radio drama, the complete Star Tours soundtrack, George Lucas's commentary and other fun stuff."
I kid you not, this is the coolest book of 2007! A must own for any Star Wars Fan!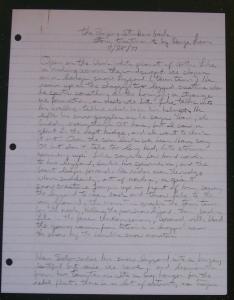 The coolest thing in the whole book is probably a 1:1 replica of George Lucas' hand written treatment for Empire Strikes Back. The thing is printed on white lines paper, and looks 100% real. Click on the image to the left to enlarge. Actually, everything in this book looks and feels 100% real. The notes written in pencil by John Williams on the music sheet for the score to Star Wars looks hand drawn (although its likely actually just printed with a really really really good printer).
Other cool items included in the book is a set of ILM stationary from 1975, an invitation from Sir Alec Guinness to a Star Wars cast and crew wrap party, the first Star Wars poster ever released from Comic Con 1976 (pictured upper right), Star Wars test screening invitation complete with the questionnaire that everyone had to fill out following the screening, script pages from The Holiday Special, Special effects sketches on yellow-lined paper from Empire, unreleased Revenge of the Jedi stickers featuring Yoda, a Full two page pullout advertisement from a Japanese newspaper, an animation cell from one of the Star Wars animated adventures, a barf bag from Star Tours, Japanese tickets to the Star Wars trilogy, a name-badge from the infamous Episode 1 line, one of the many Star Wars holiday cards sent to employees at LucasFilm, and much much more. And I'm not even talking about some of the cool stuff shown on the page. The cool stuff mentioned above is purely the removable recreated content included in this set.
You can buy The Star Wars Vault at most booksellers. The set retails for $85.00, but you can also buy it discounted for $53.55 on Amazon.com.
Cool Stuff is a daily feature of slashfilm.com. Know of any geekarific creations or cool products which should be featured on Cool Stuff? E-Mail us at orfilms@gmail.com.