Harrison Ford To Play Andrew Johnson In Spielberg's Lincoln?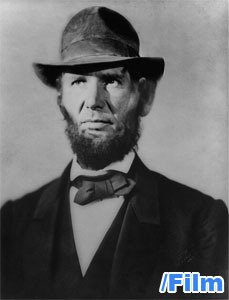 Over at Chud, there is a crazy-eyed-killah of a rumor going around that Harrison Ford is in cahoots with Steven Spielberg to star in his upcoming Lincoln, an ambitious film set to unravel the mystery behind the popular children's toy. Ford is purported to have a droopy eye on the role of Andrew Johnson, the 17th American president (and not Lincoln as parodied in the photo to the right), who took office after the 16th was assassinated by a mustachioed thespian. According to Wikipedia, the 16th American president was a tall, bearded man named Abraham Lincoln (to be played by Liam Neeson) whose family I'm guessing eventually starting making great toys. I would imagine.
Now, many might dismiss this as bogus since news also broke this week that Sacha Baron Cohen is a lock to star as afro'd '60s rabble rouser Abbie Hoffman in Spielberg's Chicago 7. And since that casting info was followed by a quizzical avalanche of stars including Will Smith, Adam Arkin and Kevin Spacey who are also said to be up for a role in the latter film, it seems Spielberg drew straws and the revolutionary longhairs won out. But since Spielberg likes to challenge himself by firing up two projects simultaneously (see War of the Worlds and Munich), I'd bet there's truthiness here. Hopefully, Ford caught the acting bug after doing the new Indiana Jones installment, and it'd be fantastic to see him in a role where he's not slowly smashing through a door that's on fire.
Personally, I want to see Lincoln realized first. It's been a long time coming and assuming that Spielberg is still in the deeply ruminative, almost melancholic, period of his career, I'd pay to simply watch him direct smoke on a battlefield. I happen to agree with Devin at Chud that Spielberg is not an ideal fit for Chicago 7, material that warrants a director with an anarchistic heart to get today's youth figuratively off the shore and into the rocky waters. But which would you rather see and how do you feel about Spielberg's latest passion projects?