Guillermo Del Toro Working On Frankenstein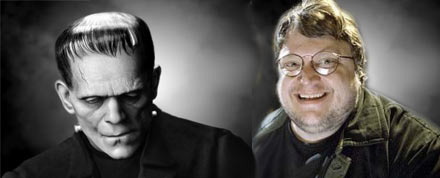 In between threatening to show off his incredible "chocolate bar physique," Hell Boy 2 director Guillermo del Toro revealed to MTV that he is working on preliminary sketches for an upcoming "definitive take" on the Frankenstein monster. Del Toro says that his vision, which is in the earliest stages of pre-production, will not be a literal adaptation of Mary Shelley's classic novel, rather a permutation on the myth. It's all very cryptic, isn't it? Does this mean he'll be bringing Frankenstein into modern times or creating his own twisted Gothic fairy tale?
"The only way to do the Shelley novel is to actually do a four-hour miniseries," he said. "But I think there permutations in which you can tell the myth in a different way."
With Mark Romanek's Wolf Man starring Benicio Del Toro and Anthony Hopkins due in 2009, it appears these traditional monsters of yore might be in for a more promising, hipper comeback compared to their last mediocre return to theaters in the early '90s, when Mike Nichols' Wolf, Francis Ford Coppola's Bram Stoker's Dracula and Kenneth Branagh's Frankenstein put audiences to sleep, as well as the horror icons. Indeed, sounds like the perfect old school anecdote for what remains of the torture porn, '80s remakes and Japanese remakes still haunting theaters.
Who would you cast as Dr. Frankenstein and his bolt-brained pal?