FightCast - Round 3: Five Movie Holiday Spectacular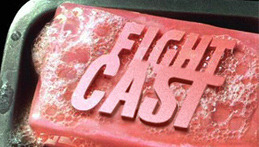 In this week's FightCast, we fight about five of this Holiday's biggest movies: I Am Legend, Walk Hard, National Treasure: Book of Secrets, Sweeney Todd, and Juno. We both had a lot of catching up to do and decided to talk about a bunch of the big films that are playing this week. I Am Legend is the Will Smith action flick that opened last week. Walk Hard is the Judd Apatow musical comedy starring John C. Reilly. National Treasure: Book of Secrets is the sequel to the first National Treasure and brings back Nic Cage yet again. Sweeney Todd stars Johnny Depp in a dark musical directed by Tim Burton. Juno is Jason Reitman's independent comedy hit. Definitely a great line-up for this weeks FightCast – so check it out! You can actually hear us this time as we've ramped up the production value a bit.
But if you're looking for high production value, look elsewhere. This isn't even a show, it's a conversation between two film geeks. The official website has launched – and for all future episodes and to subscribe to the podcast, head right to: FilmFightCast.com!
Listen Now:
Format:
49:40, 23MB, MP3
RSS Feeds:
Let us know what you think by dropping an email off at fightcast@filmfightcast.com! We hope you enjoy.