First Look: Corey Feldman In Lost Boys 2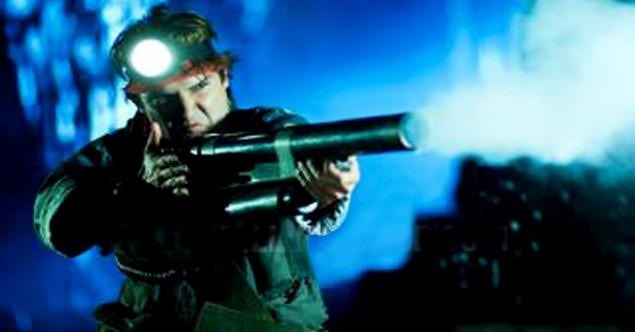 Mad Movies has the first photo of Corey Feldman in action as Edgar Frog in Warner Home Video's Lost Boys 2: The Tribe. In the photo above, Frog fires a Holy Water Bazooka, likely at some villainous vampire foe.
Official Plot Description: "This sequel takes us to the shady surf city of Luna Bay, California, where vampires quickly dispatch anyone who crosses their path. Into this dark world arrive Chris Emerson (Hilgenbrink) and his younger sister, Nicole (Reeser). Having just lost their parents in a car accident, the siblings move in with their eccentric Aunt Jillian and become new prey for the locals' way of life. When Nicole unwittingly falls for a local vampire, Chris must locate and destroy the gang's lifeline before his sister's transformation is complete; to do this Chris finds himself relying on the expertise of none other than Edgar Frog (Feldman). Subtle references to characters from the original film, and cameos from returning actors offer homage to the Lost Boys legend and set a sinister tone of impending doom."
Jamison Newlander also returns as Edgar's brother Alan. Merwin Mondesir, Shaun Sipos, and Kyle Cassie play a group of vampires led by Angus Sutherland's character. Due to a problem with immigration, Corey Haim was unable to reprise his role as Sam Emerson.
Warner Bros. is still discussing whether to release The Lost Boys 2 theatrically, as the project was first conceived as a direct-to-DVD movie. I don't care if this is a second rate DVD sequel, I really hope Warner releases this in theaters. Why not do a few midnight shows in the major markets?