Is Pixar's Up A Retelling Of Don Quixote?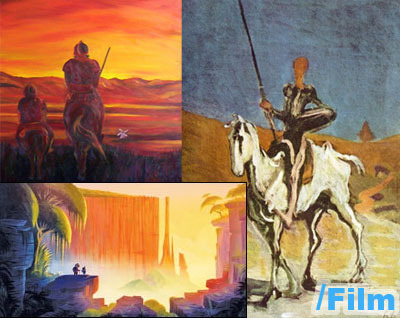 Rumor has it that the upcoming 2009 Pixar animated film Up is somewhat a re-telling of the classic Don Quixote fable. For almost 60 years now the Walt Disney Company has been trying to turn Don Quixote into an animated feature film, but without success. The episodic nature of the fable is often cited as the major sticking point.
Spanish author Miguel de Cervantes Saavedra's early novel The Ingenious Hidalgo Don Quixote of La Mancha is the most influential work of literature to emerge from the Spanish Golden Age, considered one of the greatest novels ever written and is the best-selling non-religious, non-political work of fiction of all time. The story follows a man who has read so many stories that he becomes convinced he is a knight and sets off, along with his earthy squire Sancho Panza, in search of adventure. Don Quixote's series of adventures begin with his attack on windmills that he believes to be ferocious giants.
What do we know about Up so far? Monsters, Inc. director Pete Docter is helming the project, which is scheduled to hit theaters on June 12th, 2009. Doctor told Time Magazine that Up is a "coming-of-old-age story about a seventy-something guy who lives in a house that looks like your grandparents' house smelled." He befriends a clueless young Wilderness Ranger and gets into lots of altercations. Says Pixar: "Our hero travels the globe, fights beasts and villains and eats dinner at 3:30 in the afternoon."
The description just might fit.
via: UpcomingPixar