There Will Be Sneak Preview Screenings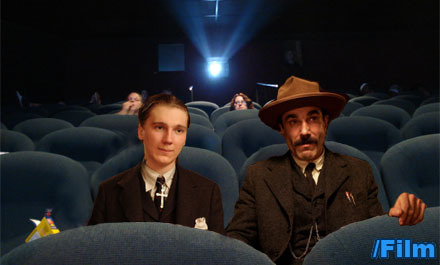 One of the best movies of the year is, without a doubt, Paul Thomas Anderson's There Will Be Blood. No question – this film is a modern cinematic masterpiece.
Blood hits theaters in New York City and Los Angeles on December 26th, and will expand during January. Not willing to wait that long? Paul Thomas Anderson has a special Christmas Gift for film fanatics around the country. Watch this video he cut together for fans:
[flv:http://media2.slashfilm.com/slashfilm/trailers/therewillbeblood-sneak.flv 420 256]
That's right, There Will Be Blood will have special Midnight sneak preview screenings on Saturday December 29th in 14 select cities.
Austin, TX
Boston, MA – AMC Loews Boston Common 19Chicago, IL – AMC River East 21
Dallas, TX
Denver, CO
Miami, FL
Minneapolis, MN – Lagoon Cinema
Philadelphia, PA
Portland, OR
Sacramento, CA
San Diego, CA
Seattle, WA
Toronto
Washington, DC
Tickets are already on sale in some of the cities listed above. Buy soon, get there early, because ... THERE WILL BE BLOOD!