Sneak Peak: Neil Gaiman's Coraline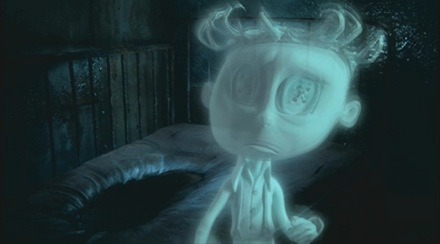 Neil Gaiman has released a sneak peek at some early, not-quite-final footage from Coraline. Based on Gaiman's short children's novel of the same name, Coraline is a young bored girl who discovers that bricked-up wall behind a door in her house leads to another dimension, where she has a different mother, and different father. A stop-motion film produced in stereoscopic 3-D from director Henry Selick, the guy behind The Nightmare Before Christmas, James and the Giant Peach and Monkeybone. the film features the voice talent of Dakota Fanning, Ian McShane, Teri Hatcher, and Keith David.
Neil Gaiman has yet to really impress me. I've me the man and interviewed him twice, and he's intelligent, clever, and an over-all nice guy. I feel that I should like his material based off my professional interactions, but so far I've found myself underwhelmed by Mirrormask, Stardust and Beowulf. Not to say I didn't like the films, I just don't understand the huge cult following behind the projects that he creates. I have yet to read a comic or novel written by Gaiman, and maybe there is where I'm missing out. It seems to me that I like many of his ideas, but not the final film productions.
Coraline has a great concept, and the style seems very Nightmare-ish, but without the very cool Tim Burton stylings. What impresses me with this footage is some of the subtle animation. For example, watch the area of Coraoline's back in the beginning of this clip. Watch the clip after the jump.
[flv:http://media2.slashfilm.com/slashfilm/trailers/carolinesneak.flv 470 354]
Coraline will hit theaters in 2008.