Cool Stuff: An Alarm Clock For Film Geeks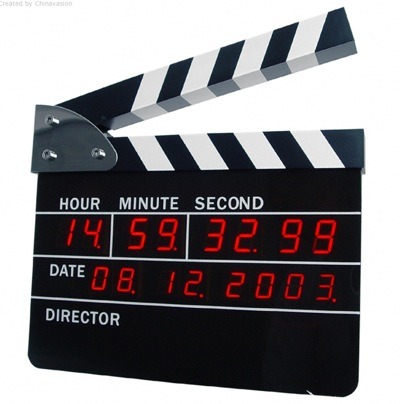 Finally there is an alarm clock for hardcore film geeks and aspiring filmmakers. Chinavasion presents this director's clapperboard shaped alarm clock, which displays the time in a 24 hour format (complete with deci-seconds) as well as the date.
When the alarm rings, just like a director, use the clapper and clip the board just like you are beginning a film take, and the alarm stop. Measuring in at 185(L) x 225(W) x 26(D) mm and retailing for just under $36, the Digital Clapperboard Alarm Clock can be wall mounted (and even comes with a built in wall mount) or you can use the desktop hinge to display it on your nightstand or desk. I might pick one of these up just to mount as a wall clock.
Cool Stuff is a daily feature of slashfilm.com. Know of any geekarific creations or cool products which should be featured on Cool Stuff? E-Mail us at orfilms@gmail.com.