New Posters: The Eye And Prom Night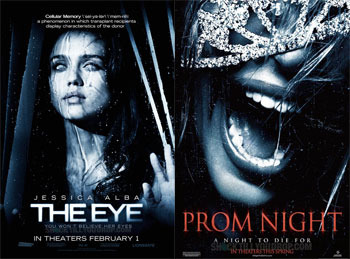 ShockTilYouDrop has a new movie poster for the remake of Prom Night, and a new banner for The Eye starring Jessica Alba, both of which look really horrible (I'm talking about the posts and the movies they are promoting). Check them out after the jump.Prom NightRelease Date: April 11, 2008Directed by: Nelson McCormickWritten by: J.S. CardoneCast: Brittany Snow, Scott Porter, Jessica Stroup, Dana Davis, Collins Pennie, Kelly Blatz, James Ransone, Brianne Davis, Johnathon Schaech, and Idris ElbaPlot Synopsis: Donna's senior prom is supposed to be the best night of her life.  After surviving a horrible tragedy, she has finally moved on and is enjoying her last year of high school.  Surrounded by her best friends, she should be safe from the horrors of her past.  But when the night turns deadly, there is only one person who could be responsible…a man she thought was gone forever.  Now, Donna and her friends must find a way to escape the sadistic rampage of an obsessed killer, and survive a night "to die for."
Rated PG-13 for violence and terror, some sexual material, underage drinking, and language.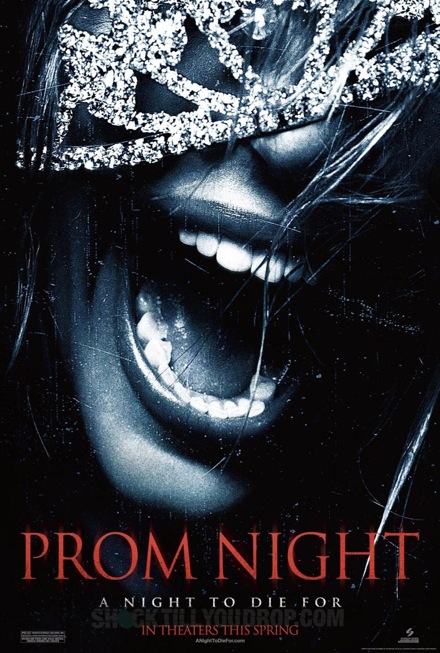 The EyeRelease Date: February 1, 2008Starring: Jessica AlbaDirected By: David Moreau, Xavier PaludPlot Synopsis:
Sydney Wells (JESSICA ALBA) is an accomplished, independent, Los Angeles-based concert violinist. She is also blind, and has been so since a childhood tragedy. As our story opens, Sydney undergoes a double corneal transplant, a surgery she has waited her whole life to have, and her sight is restored. After the surgery, neural ophthalmologist Dr. Paul Faulkner (ALESSANDRO NIVOLA) helps Sydney with the difficult adjustment, and with the support of her older sister Helen (PARKER POSEY), Sydney learns to see again.
But Sydney's happiness is short-lived as unexplainable shadowy and frightening images start to haunt her. Are they a passing aftermath of her surgery, Sydney's mind adjusting to sight, a product of her imagination, or something horrifyingly real? As Sydney's family and friends begin to doubt her sanity, Sydney is soon convinced that her anonymous eye donor has somehow opened the door to a terrifying world only she can now see.