Religulous Follows In The Steps Of Michael Moore's Sicko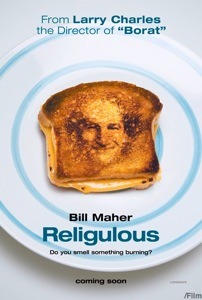 Lionsgate Films has finally set an official release date for Religulous, Larry Charles' follow-up to Borat. Bill Maher hosts this documentary which takes on the the current state of religion. I saw a bunch of footage from this film at Toronto this year, and the festival-goers packed in a huge auditorium were laughing out loud throughout.
Maher had originally said that they were planning to release the film around Easter for maxim controversy, but it appears those plans have been scrapped. Religulous will now hit theaters on June 20th 2008, up against two comedies: Get Smart and The Love Guru. Seems like a bad date on the calendar if you ask me.
After further research, I was able to find that Michael Moore's Sicko came out on the same week in 2007. Studios sometimes stick similar movies in similar dates, year after year. For example: The Star Wars May release date always gets a big action sci-fi film. I understand the reasoning of this type of calendar planning with big releases, but I think smaller films and documentaries probably deserve a different assessment. But what do I know?