First Look: Guy Ritchie's RockNRolla; Plus Test Screening Review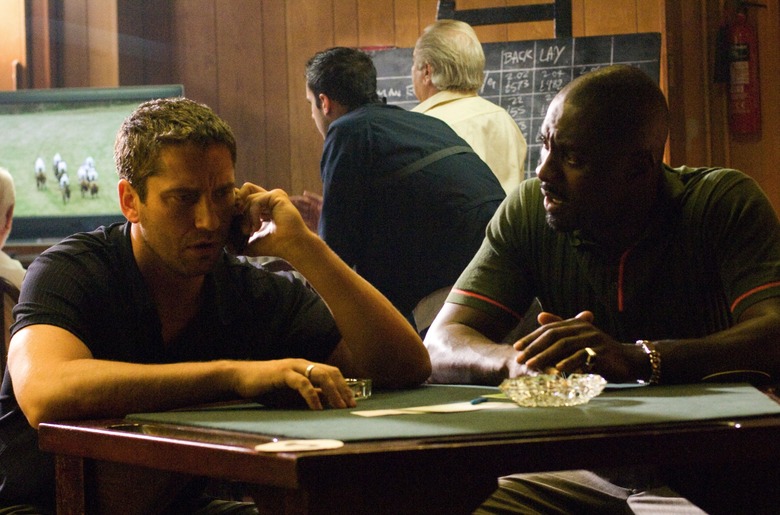 Warner Bros has released the first two production photos from Guy Ritchie's RockNRolla, a crime thriller starring Gerard Butler. Click on the images to enlarge. Everyone is hoping that this film might be a return to form for Ritchie, who has had a string of critical bombs and box office failures. We have a reader submitted test screening review below.
The film follows a Russian mobster who orchestrates a crooked land deal, putting millions of dollars up for grabs and attracting all of the criminal underworld. Everyone from a dangerous crime lord to a sexy accountant, a corrupt politician and down-on-their-luck petty thieves conspire, collude and collide with one another in an effort to get rich quick. The film also stars Thandie Newton, Chris "Ludacris" Bridges, Jeremy Piven, Idris Elba, and Tom Wilkinson.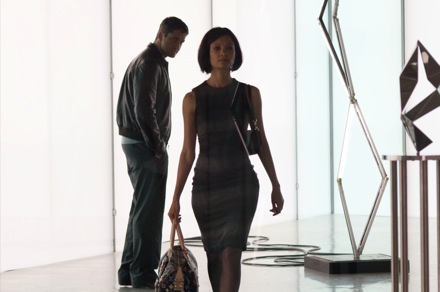 The following test screening review is from Eternal, who saw the film last month:
I just LOVED this movie!!!!  I wish I could tell you all EVERYTHING about RocknRolla, but unfortunately, if I do, I will give too much of the movie away and ruin the fun for everyone!
This IS a real gangster movie, even though its funny. Its hard to explain. If you've seen one of Guy Ritchie's other films, like Lock Stock and 2 Smoking Barrels, you'll know that Ritchie can do both funny and serious at the same time.
Let me just say this is the comedic performance we have been waiting for from Gerard. This movie is a hilarious crime/heist film and Gerard is just hilarious as the ne'er-do-well small time criminal, OneTwo. (They never explained where that name came from, but anywhoo....) Basically, OneTwo hangs out with his buddies and fellow crooks (called with seeming heavy sarcasm, "The Wild Bunch")waiting for the next job and not doing much else.
Gerard gets to be charming, funny, somewhat goofy and at the same time totally cool. And I like that this is the only movie in a long time where Gerard actually looks like himself, I mean the way he does wandering around in real life. No dyed hair, put on abs, strange beards or makeup: just pure and natural (and all the hotter because of it) Gerard! We've been in such a Gerard drought, I'd almost forgotten why I love this many so much and find his so appealing and attractive as an actor, but this movie brought it all back for me!
I can't talk about too many scenes without giving too much away, but I will say my favorite Gerard scene was where he in the car with "Handsome Bob" and loses his temper. Another was a hilarious dance scene with Gerard and Thandie Newton (where Gerard does a pretty good "white guy trying to be cool" dance.) He and Thandie also have one of the funniest (and shortest) "sex" scenes in film history. There is also one of the funniest and most over the top (in a good way) fight/chase scenes I think I've ever seen in a film with some great (future classic) Gerard moments. The most of a spoiler that I will give is that OneTwo's band of ne'er-do-wells success as criminals is more do to dumb luck than any actual skill or aptitude.
I also have to mention this movie is full of really brilliant performances, especially by Tom Wilkinson (as usual), Mark Strong, Tom Hardy and Toby Kebbell. Toby Kebbell is a new "face" for me, but after this film, he is someone whose future work I'm looking forward to seeing.
Oh yeah, and the title is explained, but I can't tell you that either, because that would be a spoiler too.
RockNRolla will hit theaters in the Third Quarter of 2008.