The Hottest Unproduced Screenplays Of 2007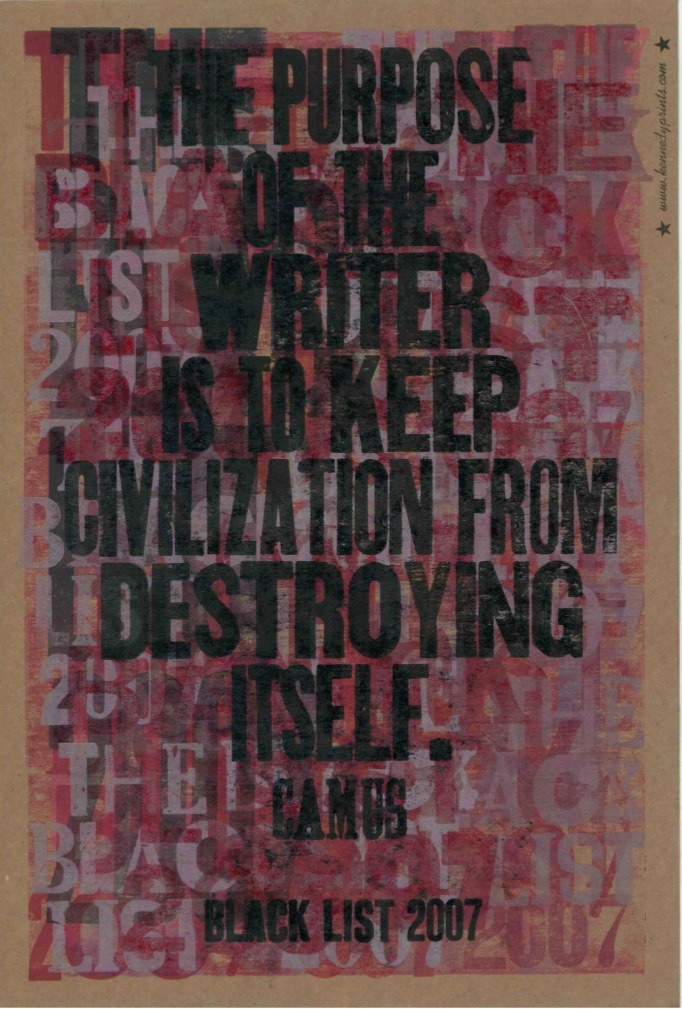 On Friday, the annual Black List was released. The list is compiled with a poll of 150 development executives and high-level assistants, and contains a ranking of the hot screenplays making the rounds in Hollywoodland, which were written in, or are somehow uniquely associated with, 2007 and will not be released in theaters during this calendar year. Basically, the black list contains the hottest projects in Hollywood that you haven't heard of yet. Note: the headline is a slightly inaccurate, because a few of these projects are in production now.
Started two years ago by a young executive at Leonardo DiCaprio's production company Appian Way, who polled 90+ peers to send him their 10 favorite new unproduced screenplays to read over the holidays. The underground list was e-mailed around and quickly became a Hollywood phenomenon. To give you an idea, the top three entries of the 2005 list where Things We Lost in the Fire, Juno, and Lars and the Real Girl. However it should be noted that a warning appears at the beginning of the list:
"THE BLACK LIST is not a "best of" list. It is, at best, a "most liked" list."
1. Recount – Written by 33-year old actor turned screenwriter Danny Strong, Recount is a behind-the-scenes look at the 2000 presidential election and the scandal that resulted. Jay Roach (Meet The Parents, Austin Powers) is directing the film for HBO Films. Kevin Spacey stars as Ron Klain was former Vice President Al Gore's Chief of Staff, John Hurt as Warren Christopher, who supervised the contested Florida recount, Laura Dern as Katherine Harris, former Secretary of State for the State of Florida, Tom Wilkinson as James Baker and Denis Leary as Michael Whouley. [44 Votes]
2. Farragut North – Former Howard Dean staffer and playwright Beau Willimon's third play, now to be turned feature film. Exposing the underbelly of campaign politics in the midst of a presidential nomination race. A wunderkind communications director watches his promising career unravel as he plays the pawn in a battle between more seasoned campaign veterans. Willimon's campaign experience gives North "a unique insider's perspective to the world of ambition, rivalry, jealousy and dirty tricks which epitomizes modern American politics." Warner Bros has optioned the film for George Clooney (Good Night, and Good Luck., Confessions of a Dangerous Mind) to direct with Leonardo DiCaprio in talks to star. [43 Votes]
3. Passengers – Keanu Reeves's Company Films is on board to produce this sci-fi tale by Jon Spaihts, about a passenger on an intergalactic spaceship who is the only one prematurely thawed out from cryogenic slumber, 100 years before anyone else. Project is available to studios. [38 Votes]
4. Selma – Paul Webb's historical drama following the story of "Martin Luther King Jr.'s campaign to convince President Lyndon Johnson to enact the voting rights act and the march from Selma to Montgomery that came as a consequence." Christian Colson is producing for Celador Films, but the project is available to studios. Webb's original screenplay biography for Abraham Lincoln is Steven Speilberg's next project. [29 Votes]
5. Curveball – Eastern Promises screenwriter Steve Knight's adaptation of award-winning Los Angeles Times reporter Bob Drogin's book Curveball: Spies, Lies, and the Con Man Who Caused a War, about an Iraqi informant code-named 'Curveball' who gave "flawed information about biological weapons that the U.S. government used to justify the war in Iraq." The book cover reads "an inside story of intrigue and incompetence at the highest levels of government." Project is set up at Focus Features. [27 Votes]
6. I Want To F— Your Sister – Lawyer-turned-screenwriter Melissa Stack's high-concept comedic spec screenplay about "a young man goes to great lengths to protect his younger sister from guys just like him." MTV Films pre-emptively bought the screenplay for $300,000 against $600,000. Stack quit her job as a Lawyer after the sale. [25 Votes]
7. The Road – Joe Penhall's (Enduring Love) adaptation of Cormac McCarthy's Bestselling Pulitzer Prize-winning novel The Road, centers on a father "who walks alone with his son through a ravaged postwar American landscape in search of civilization" in "order to transport his son to safety, while fending off starving stragglers and marauding packs of cannibals." Road was the April 2007 Oprah's Book Club selection. John Hillcoat (The Proposition) directs the film for 2929 Productions. Dimension Films will distribute. Viggo Mortensen, Guy Pearce and Danny Huston are in talks to star. Filming is set to begin in February 2008. [24 Votes]
8. The Way Back – Reno 911! actors-turned-screenwriters Nat Faxon & Jim Rash's tale of a teenage boy "who comes into his own over the course of a summer through an unlikely relationship with the man in charge of the local water park." Shawn Levy (A Night at the Museum) was/is signed on to direct for Fox Searchlight, but the list marks the project as available? [21 Votes]
9. This Side of the Truth – 29-year-old screenwriter Matthew Robinson will co-direct under Ricky Gervais (The Office), who also plans to star opposite Jennifer Garner. A comedy "set in a world where the concept of lying doesn't exist, until an actor seizes the opportunity for personal gain." Project is eyeing Spring start, Warner Bros will distribute. [17 Votes]
10. Dubai – Adam Cozad's spec screenplay about a young economist who "is forced to go on the run to prove his innocence after Iranian operatives in Dubai use him as part of" a highly coordinated international attack on the U.S. economy. A passion project for actor Eric Bana (Munich, Hulk), who is executive producing. Paramount will distribute. [16 Votes]
11. Pierre Pierre – Fox Searchlight paid close to a million dollars upfront for the screenplay by Edwin Cannistraci & Frederick Seton. Described as simular to Bruno/Borat, the story follows a "self-indulgent, lazy, French nihilist who is transporting a stolen Mona Lisa from Paris to London." Through the journey, "he comes to love his home country again." Jason Reitman (Juno, Thank You For Smoking) was in talks to direct, with Jim Carrey in talks to star. [16 Votes]
12. The Necessary Death of Charlie Countryman – "After his mother dies of cancer, a young man named Charlie takes a trip to Budapest. En route, the passenger next to him, an old Hungarian man, dies. Charlie, who promised the man to bring his daughter a gift, falls in love with her, then discovers that she has a violent past." Project is set up at Sidney Kimmel Entertainmet. Written by Matt Drake. [14 Votes]
13. Source Code – Ben Ripley sold this spec script to Universal earlier this year. "As part of an experimental government program to investigate a terrorist incident, a soldier finds himself living and reliving a series of events that take place on a commuter train just prior to the train exploding." Topher Grace is set to star. [13 Votes]
Here are a few highlights from other screenlays on The Black List:
Edwin A. Salt – Kurt Wimmer's thriller about a CIA officer who is fingered as a Russian sleeper spy, and must eludes capture while proving that someone else is the traitor. Tom Cruise is set to star for Columbia Pictures.
The Human Factor – Anthony Peckham's (Don't Say A Word) Nelson Mendela biopic starring Morgan Freeman. Matt Damon is in talks to star at Warner Bros.
Union Station – Doug Jung's (Confidence) adaptation of the Ande Parks graphic novel about the case of the 1933 Union Station massacre.
Adventureland – Greg Mottola's (SuperBad) semi-self-bio about his post high school experiences working a minimum-wage job at a local amusement park in the 1980's. Now in production with Ryan Reynolds, Kristen Stewart and Bill Hader.
BFF – George Lucas in Love filmmaker Joe Nussbaum is directing for Rogue Pictures. The Chad & Dara Creasey screenplay follows a guy and a girl's friendship through their high school years.
Never Let Me Go – Alex Garland (28 Days Later..., Sunshine) adaptation of the Kazuo Ishiguro novel which is essentially Michael Bay;s The Island but set at a Boarding School. Set up at Fox Searchlight.
$40,000 Man – Jonathan Goldstein & Sean Daily's screenplay about a legendary astronaut who is "rebuilt by the government to be a bionic man — but on a budget of only $40,000." Terry Zwigoff (Ghost World) is set to direct for New Line.
The Art of Making Money – Frank Baldwin's telling of the "exploits of Art Williams, who conterfeited as much as $10 million in American currency." Set up at Dreamworks.
Shelter – Karl Mueller's thriller about a group of people huddled together in a nuclear fallout shelter begin to turn on each other as they wait for help. Set-up at Mandate Pictures (Juno).
Untitled Michael Mann/John Logan Project – "A private eye is used by motion picture studios to clean up star scandals."
Wednesday – Massy Tadjedin's (The Jacket) tale of a desperate carjacker who "steals a woman's car, taking her on a high-speed chase across Los Angeles." 28 Weeks Later helmer Juan Carlos Fresnadillo is set to direct for Dreamworks.
The Wolf of Wall Street – Terence Winter's (Get Rich or Die Tryin', The Soprano) adaptation of the John Belfort book about  Jordan Belfort, "a Long Island penny stockbroker who served 20 months in prison for refusing to cooperate in a massive 1990s securities fraud case that involved widespread corruption on Wall Street and in the corporate banking world." Martin Scorsese is attached to direct with Leonardo DiCaprio for Warner Bros.
Get Back – Chris McCoy comic screenplay about two die-hard Beatles fans who time travel back in time to "prevent John Lennon from ever meeting Yoko Ono, as they blame her for the Beatles' demise."
Jennifer's Body – Juno scribe Diablo Cody's comic horror tale of a cheerleader who becomes possessed and begins killing boys in a small town." Megan Fox (Transformers) is attached to star. Jason Retiman is producing for Fox Atomic.
Jones – Empire Records scribe Carol Heikkinen's drama about a girl recovering from cancer who returns to high school, falls in love, and has another scare. Set up at Universal.
Valkyrie – Chris MacQuarrie's account of Colonel Claus von Stauffenberg's assassination attempt on Adolph Hitler. Bryan Singer directs Tom Cruise for United Artists.
World War Z – J Michael Straczynski's adaptation of the Max Brooks book chronicling the aftermath of the great human-zombie war. Set up at Paramount.
The Wrestler – Robert Siegel's tale of a 1980's-era pro-wrestler, now down and out, who decides to make a possibly fatal comeback. Darren Aronofsky (Requiem for a Dream) directs Mickey Rourke.
Zombieland – Rhett Reese (Monsters, Inc) & Paul Wernick's (The Joe Schmo Show) screenplay takes place after a zombie plague ravages America. "A pair of 'odd couple' survivors team up to find purpose and combat the living dead in the post-apocalyptic Southwest."
The 2007 Black List contains 130 screenplays. You can read the entire list here.