McLovin Cast In Year One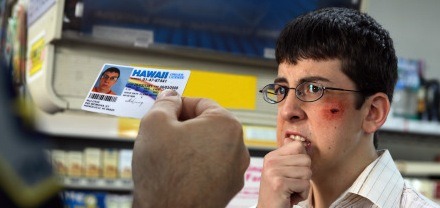 Christopher Mintz-Plasse will forever be known as McLovin. In the way that Seann William Scott will probably always be referred to as Stiffler. Plasse would probably be better off changing his name officially to McLovin.Judd Apatow is trying to get Mintz-Plasse some more work in Hollywood, casting the SuperBad star in the 2009 Harold Ramis comedy Year One (no relation to the Frank Miller Batman graphic novel) starring Jack Black and Michael Cera. Oliver Platt, David Cross, Vinnie Jones and Juno Temple are also in final negotiations for the film.
Ramis co-wrote the script with The Office scribes Gene Stupnitsky and Lee Eisenberg. So what is the new movie about? Well… ummm its about the first year of… okay, we don't have a clue. As it turns out, the studio wants the plot details to be kept under wraps (for now). All we know is it's a comedy "set in biblical times" and that Platt is in talks to play a platform-shoe-wearing high priest, while Jones is on board to play a head palace guard named Sargon.
With Judd Apatow on such a roll as of late, we have to keep a close eye on all his upcoming projects. And Ramis has directed some of the best comedies of all time, including Caddyshack, National Lampoon's Vacation, Groundhog Day, and Anaylze This (we'll try to forget about Bedazzled, Stuart Saves His Family and Multiplicity). With an early Summer 09 release date, this is definitely one to watch out for.
Year One will hit theaters on June 19th 2009.
source: THR