Movie Trailer Tracking: Indiana Jones 4, The Dark Knight, Star Trek, Horton Hears A Who, Inkheart, And Semi Pro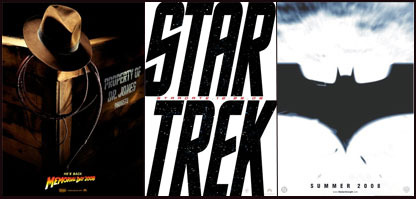 George Lucas originally told press that the trailer for Indiana Jones and the Kingdom of the Crystal Skull would hit theaters around Thanksgiving, but before Christmas. Thanksgiving has come and went, and speculation that the Indy 4 trailer will be attached to Disney's National Treasure 2 is looking unlikely. Coming Soon is now reporting that the teaser will hit theaters in February attached to The Spiderwick Chronicles. This sounds like a terrible idea for me. The National Treasure sequel seems like a better targeted film. And why is Paramount giving up the chance to attach the trailer to Sweeney Todd at the end of the month?
We've previously told you that seven minutes of The Dark Knight will be attached to the IMAX version of I Am Legend on December 14th, but did you know that a new Batman trailer will also be attached to the traditional release?
ScreenRant is reporting that the teaser trailer for JJ Abrams' Star Trek reboot will be attached to Cloverfield, which opens on January 18th 2008.
I saw a horrendous trailer for Inkheart attached to The Golden Compass, which hits theaters on December 7th 2007. My friend Alex Billington also tells me that a new hilarious trailer for Semi-Pro was attached to his screening. My Fox sources say that a second trailer for the computer animated Dr. Suess adaptation Horton Hears a Who will also be attached to this New Line release.