Hellboy 2 Movie Poster: Abe Sapien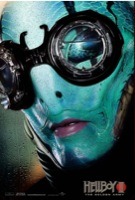 Earlier today we posted the first teaser poster for Hellboy II: The Golden Army featuring Selma Blair as B.P.R.D.'s resident pyrokinetic Liz Sherman.
Universal has now released the second poster of a three poster series, this one featuring Doug Jones as Abe Sapien. The Hellboy character poster will be be released tomorrow. Check it out after the jump.
Hellboy II: The Golden Army hits theaters on July 11, 2008.