Kevin Smith Talks Porno Casting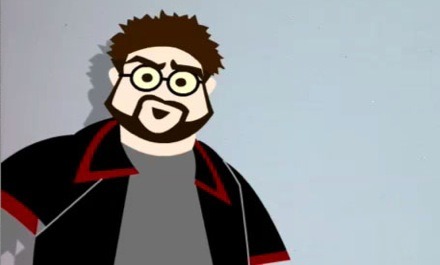 Ever since it was announced that Seth Rogen and Elizabeth Banks had been cast in Kevin Smith's new movie Zack and Miri Make a Porno, everyone's been wondering "How Did That Happen?" Smith explains everything, giving an incredibly honest account of the casting process in his latest blog entry. Here are some highlights from his blog and message board:
On Pitching the Film to Harvey:
"In late 2005, I had a breakfast meeting with Harvey Weinstein at the Peninsula Hotel in Beverly Hills. Even though we were a few weeks away from shooting "Clerks II", he was asking what I wanted to do after that. I told him I'd been thinking about this flick called "Zack and Miri Make a Porno." I'd gotten no further than the title when he said "Done. I'm making that movie."
"Don't you wanna know what it's about first?" I asked.
He replied "I thought the title said it all."
"Well it doesn't."
"Fine. What's it about?"
"It's a meditation on the Holocaust."
He stared at me blankly for a beat.
"Alright," I relented. "The title says it all."
On Meeting Seth Rogen for the First Time:
"I never wanna meet anybody. This guy, though, I did wanna meet. And meet him I did, on our way out, as he was coming in. Harvey introduced us, and I immediately told him how many times I watched him say "FUCK you!" to Paul Rudd. He said he was a fan, but I didn't take him seriously; in Hollywood, people tell you that all the time, even though they don't mean it."
A Clip from Smith's E-Mail to Rogen:
"I know you're probably buried in "Knocked Up" and "Super Bad" stuff at the moment, but if you've got an hour or two, I'd love you to read it. We're not gonna be shooting 'til Jan/Feb '08, so there's no immediate rush, I guess. I also know (or at least suspect) that you generate your own material, so I realize I'm doing you no favors, as you're probably not hurting for work at the moment. Still, I'd love you to read it and, ultimately, be in it, so maybe we can hook up sooner or later."
On the Casting of Seth Rogen: "Huge score, to say the least. Dude had his pick of every comedy in town, and he chose us. Dude could've even generated his own flick, and he chose us. I feel like Cinderella."
Seth Rogen's Response: "This may sound like bullshit, but when I first moved to LA, I went out to meet with agencies, and one of them asked me what my goals were. I said "to be in a kevin smith movie." That goal has not changed. I would be honored to read anything you wrote, and am truly flattered and amazed that you sent me this e-mail. I wouldn't be a writer if it wasn't for you and your movies. Its as simple as that. Thank you so much."
Seth's Response to the script: "its one of the funniest things I've ever read."
On Casting Elizabeth Banks: "Carla pulled together a list of around a hundred actress names. Alphabetically, Elizabeth Banks was at the top of the UTA list. Having dug her in "Invincible" and "Virgin", I put her into my top five choices. Carla told me her agent had called because she'd specifically asked about "Zack and Miri". That made me like her even more.""I met with Elizabeth up at the house and instantly fell in love with her sense of humor (and modest romantic history)."
Rogen's reaction to Banks: "He went nuts for Banks, telling me that she was really funny and a quick ad-libber. We both agreed she was the perfect Miri."
On Doing Video Blogs Of the Production: "We'll be shooting 'em, but I don't think we'll put 'em up 'til after we're done shooting. Earliest this flick could come out is November of next year, so if we're rolling video blogs from January, we'll run out of steam prior to release. So expect the video diaries to start in April/May."
On Zack and Miri being a commercial film: "Well, that's all I've ever made, really. Any flick that's made with the intent of being shown to people you aren't related to or intimates with are intended to be "commercial" – even "A Wizzo's Tale.""
You can read Smith's full blog post at SilentBobSpeaks.com.