Cool Stuff: Goonies Action Figures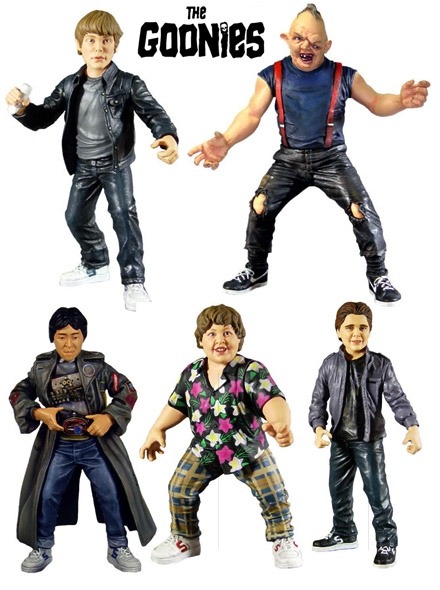 We may receive a commission on purchases made from links.
A Goonies sequel might not ever happen, a rumored cartoon series may or may not be in the works, and Richard Donner is trying to get a broadway musical adaptation off the ground (will the Truffle Shuffle become a huge musical production number?). But Goonies never say die!
Mezco Toyz and Warner Brothers Consumer Products have teamed up to release a series of Goonies action figures. The first assortment of action figures featuring: · Mikey – with map, Copper Bones, Spanish Doubloon, alternate hand with inhaler and bag of marbles · Data – with Bully Buster, Pinchers of Peril, sticky dart and dynamite · Chunk – with statue of David, milk shake and piece of pizza · Mouth – with lantern, hair brush, pirate sword and pirate treasure · Sloth – with pirate hat, pirate sword and candy bar. Click on the image to the right to enlarge.
I saw the first line-up of figures at my local San Francisco Virgin Records last week, and must admit – they sure look cool. Sloth was out of stock, of course, and I expect that to be the case everywhere. So if you don't want to follow Chester Cobblepot's clues and go on a citywide hunt, I found the whole set for around 70 bucks on Amazon.
Know of any geekarific creations or cool products which should be featured on Cool Stuff? E-mail Us.