Box Office: Lions For Lambs Unlikely To Top $11M Opening; Fred Claus Headed For $24M-$27M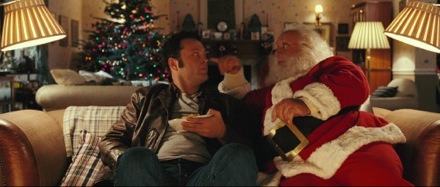 When Tom Cruise showed up on MTV's TRL on Monday, it was the marketing equivalent of a Hail Mary. The fact is that Lions for Lambs, the first movie produced by Cruise and Paula Wagner under the previously-dormant United Artist banner, is tracking poorly â€" especially with the Under 25 crowd. In fact, the more that Under 25's hear about the movie, the less interested they become.
As of October 28, my sources tell me that Lions for Lambs scored Definite Interest at 32% with Males Under 25 and 19% with Females Under 25. Just one week later, as of Sunday (11/4), those numbers had dropped to 19% of young males and 17% of young females. It'll take more than showing up on America's favorite 'tween countdown show to get his political thriller to skew younger.
I'm a huge fan of Cruise the actor. The summer of Risky Business was the summer between my senior year of high school and my freshman year at college. He gave his best performance in one of my favorite movies, Jerry Maguire, and, if I had an Oscar vote that year, he would have gotten it. Erratic behavior and religion aside, he's been a legitimate movie star for a quarter of a century, but there's no saving Lions for Lambs.
As of Wednesday night (11/6), despite a cast that includes Meryl Streep and the presence of Oscar winning director Robert Redford (Ordinary People, A River Runs Through It), Rotten Tomatoes has the movie at just 29% Fresh. Perhaps the most concise criticism comes from Nev Pierce from the BBC who says, "It's too pious to be entertaining, too polite to be convincing and, like a weapon of mass destruction, takes a lot longer to deploy than 45 minutes."
Unlike many in the media, I'm rooting for Tom and by extension United Artists and MGM. Friday in the NY Post, Peter Lauria described Lions for Lambs as a "Ticking Tom Bomb." The reported budget for this picture is only $35M. It's a tough subject (the War on Terror) at a time in the marketplace where serious films just aren't working. The movie won't be a blockbuster hit, but this isn't an Evan Almighty-sized disaster.
The recent New Line disappointment Rendition, also featuring Meryl Streep, makes a great comparable here. There was stronger Un-Aided Awareness for Rendition 6%-2%, but the Total Aware for Lambs is better 64%-59%. At the same point in its marketing cycle, Rendition had 27% Definite Interest and the Cruise project is only a tick better at 28%. Here's how the demos break out.
DEFINITE INTEREST â€" Males Under 25
Lions for Lambs â€" 19%
Rendition â€" 18%
DEFINITE INTEREST â€" Males 25 Plus
Lions for Lambs â€" 36%
Rendition â€" 24%
DEFINITE INTEREST â€" Females Under 25
Rendition â€" 30%
Lions for Lambs â€" 17%
DEFINITE INTEREST â€" Females 25 Plus
Lions for Lambs â€" 35%
Rendition â€" 31%
It's hard to believe that Tom Cruise can no longer drive a movie above 40% Definite Interest with Females 25 Plus, but Viacom chief Sumner Redstone is probably not surprised. When the venerable exec cut ties with Cruise last year, he explained that his wife Paula had some say, "Paula, like women everywhere, had come to hate him. The truth of the matter is, I did listen to her . His behavior was entirely unacceptable to Paula and to the rest of the world. He just didn't turn one [woman] off. He turned off all women, and a lot of men." In fact, Lions for Lambs had Definite Interest with Females 25 Plus of 36% 10 day ago, and it's actually dropped to 35%.
The marginally more-positive news is that the Lions for Lambs is at 7% First Choice compared to the 3% that Rendition opened with, but it's a longshot fto think that Tom Cruise's first post-Paramount film will make back its $35M budget in domestic box office (Rendition has generated $9.3M domestic as of Tuesday). This movie will be no box office Lion, and I'm calling for a depressing, Lamb-like $8M-$11M opening.
Things look much better for the other major studio wide release Fred Claus (Warner Bros). This is an "old-school," formulaic, feel-good, warm and fuzzy spin on the Santa Claus story with Paul Giamatti as "the big guy" and Vince Vaughn as his ne'er-do-well brother. It's hard to believe that Oscar winners Kathy Bates, Rachel Weisz and Kevin Spacey signed on for this fluff, but it's probably a nice change of pace.
Despite all of the A-list talent, Fred Claus is at only 33% Fresh on Rotten Tomatoes, but this movie is critic-proof. It's for kids and families, and tracking shows that it should perform respectably. Last year's The Santa Clause 3, which opened with $19.5M, is a perfect comparable, and Fred looks to outdo that 3-day number.
Fred Claus has 5% Un-Aided Awareness, which doesn't add up to much buzz or anticipation. SC3 was a sequel, so it had strong Awareness at 87% compared to just 70% for the Vaughn-Giamatti pic, but Fred is outpacing Santa Clause 3 in Definite Interest 37%-31%. Here's how the demos lay out.
DEFINITE INTEREST â€" Males Under 25
Fred Claus â€" 35%
The Santa Clause 3 â€" 24%
DEFINITE INTEREST â€" Males 25 Plus
Fred Claus â€" 34%
The Santa Clause 3 â€" 24%
DEFINITE INTEREST â€" Females Under 25
Fred Claus â€" 39%
The Santa Clause 3 â€" 36%
DEFINITE INTEREST â€" Females 25 Plus
Fred Claus â€" 39%
The Santa Clause 3 â€" 39%
Whereas the Tim Allen three-quel generated real interest only with Moms (Females 25 Plus), Vince Vaughn, in particular, scores in the other 3 quadrants. Men of all ages and Females Under 25 can go to see Fred Claus without being embarrassed.
Both movies went off with a 9% First Choice, which is soft, but that doesn't include all those kids who don't get surveyed. Fred has a better First Choice with Males Under 25 (8%-5%) and Females Under 25 (12%-9%), but none of this suggests the $30M opening that many analysts are projecting.
I say that this weekend is a toss-up between last week's champ American Gangster (Universal) and Fred Claus, and I'm giving the edge to Denzel, Russ and Ridley. Exit surveys for Gangster have been spectacular, and, given its 160-minute running time, not everybody saw it on opening weekend. I'm calling for $25M-$28M for the action holdover because I'm sensing a phenomenon. AG is a great, big, sweeping epic and, it's fun. It's more entertaining than all of the dour autumn Hollywood offerings put together, and that's what moviegoers are in the mood for. The #2 spot should go to Fred Claus with something in the $24M-$27M range, and Bee Movie will be a solid 3rd with $22M-$25M.
It's a bit unbelievable how poorly the horror flick P2 (Summit Entertainment) is tracking. Rachel Nichols, whose next film is the highly-anticipated Charlie Wilson's War from Mike Nichols, plays a woman who is trapped in a parking garage in this genre pic, and it's fair to say both she and co-star Wes Bentley equally trapped in a bomb that should have gone straight to video. P2 has a Total Aware of 20%, Definite Interest of just 21% and a 2% First Choice, and it's hard to imagine more than $2M-$4M on its opening weekend.
Here are my Final Predictions for this weekend (11/9-11):
1. American Gangster (Universal) – $26.7M
2. Fred Claus (Warner Bros) – $25.7M
3. Bee Movie (Dreamworks/Paramount) – $23.1M
4. Lions for Lambs (MGM/UA) – $10.7M
5. Dan in Real Life (Disney) – $6.3M
6. Saw IV (Lionsgate) – $5.6M
7. P2 (Summit Entertainment) – $3.3M
8. The Game Plan (Disney) – $2.4M
9. Michael Clayton (Warner Bros) – $2.2M
10. Martian Child (New Line) – $1.9M
Read More at Fantasy Moguls.