Video: Writers Strike Explained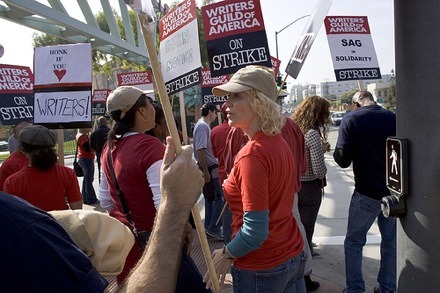 I have gotten a bunch of e-mails asking me to explain the current writers strike. Why are the writers picketing in front of the movie studios? Aren't they paid enough? What is this whole thing all about. The good folks at UnitedHollywood have put together a video which explains the major points of debate between the WGA and the movie/television studios. I think you will quickly understand why this is happening.
Wikipedia also has a great round-up of what's going on including a list of the teleivison shows which will be impacted (and how many episodes they have left in the pipeline).
Office showrunner Greg Daniels and actor/writer Paul Lieberstein talk about what happened when Steve Carell walked off The Office, and the show is forced to shut down production.
Damon Lindelof and Marc Cherry on the picket lines in a video clip titled "Lost & Desperate", how clever. Lindelof makes a great point at the end of the clip about how the future of television is an on demand internet box.
Photo via: Flickr