Cool Stuff: Free Juno T-Shirts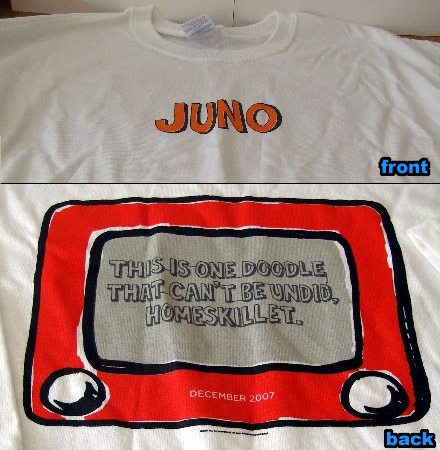 Apparently, Fox Searchlight is handing out free Juno t-shirts at SELECTED advance screenings of the film (RSVP for a screening on Fox Searchlight's website, no t-shirts guaranteed). I saw the film at the 2007 Toronto International Film Festival and all I got was a branded orange tic tacs, a prop featured in the film (photo below courtesy of sprout).
I really hope that people find this movie and it becomes a cult hit and I really digg this t-shirt (aside from the white color, is it that much more expensive to make swag on black tees?). But on the other hand, I really hope that the film isn't turned into a line of t-shirts like Napoleon Dynamite. Because there is nothing less cool than a cult hit being over commercialized.
I found the photo via an auction on eBay, because somewhere out there, there are people stupid enough to pay money for free swag. Juno hits selected theaters on December 5th 2007.