Robert Rodriguez To Direct The Clash Of The Titans Remake?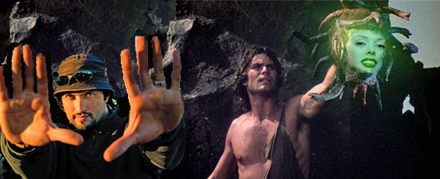 In the story of big budget remake of Barbarella, Universal and Robert Rodriguez split over budget issues or his refusal to cast anyone other than his girlfriend Rose McGowan in the lead role (depending on what story you read). The director's attempts to lower the budget from $80 million to $60 million have thus far been unsuccessful. And with a writers strike now in effect, the project is probably on hold indefinitely. So what is Rodriguez to do?
LatinoReview has heard that Warner Bros is interested in having the Sin City director tackle the Clash of the Titans remake. A while back it was reported that Raiders and Empire screenwriter Lawrence Kasdan, with Travis Beacham (Killing on Carnival Row) drafting a script. Last month it was rumored that Sam Raimi was offered the gig, but nothing was officially announced. So it appears that the studio is on a hunt for a new director, and Rodrgiuez would be perfect for the job. It should also be noted that Rodriguez was in talks at Warner to helm either a live-action Jetsons movie or a big screen version of Land of the Lost before he latched onto Barbarella. So it's very likely that Warner would go to Rodriguez with this project since his schedule has suddenly cleared up. But for now this is all rumor. Rodriguez could turn down the offer. One thing is for sure, if Rodriguez does decide to sign on for the project, I'm pretty sure we all know who will be playing Medusa.
The original Desmond Davis film was an adaptation of the myth of Perseus which told his quest to battle both Medusa and the Kraken monster in order to save the Princess Andromeda. The movie is famous for its use of Ray Harryhausen's stop motion animated creatures.