BeeCeuticals Sues Bee Movie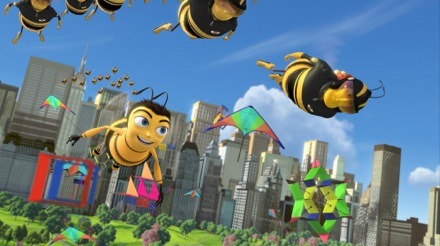 Anyone who has listened to The Howard Stern Show in the last year will surely recognize the a company called BeeCeuticals because of the consistent advertisements, and the fact that the owner of the organic skin care company is the famous shock jock's cousin. /Film reader Meredith H just sent word that BeeCeuticals has filed a trademark-infringement lawsuit yesterday against the Paramount/Dreamworks, who is using the slogan "Give Bees A Chance" in their marketing. As it turns out, BeeCeuticals owner Richie Gerber claims to have filed for a federal trademark for the slogan a year ago.
"My client went to the companies to explore joint marketing. Ideas were passed back and forth, and they eventually used the trademark without asking," says Elliot Zimmerman, a lawyer for BeeCeuticals, told Bloomberg. "That's something they would have normally paid for."
BeeCeuticals sent a cease- and-desist letter to the entertainment companies on Oct. 24. Paramount "retired" the advertisements that used the slogan but "refused to guarantee the trademark wouldn't be used in new marketing for the film".