Shazam!: The Rock Is Black Adam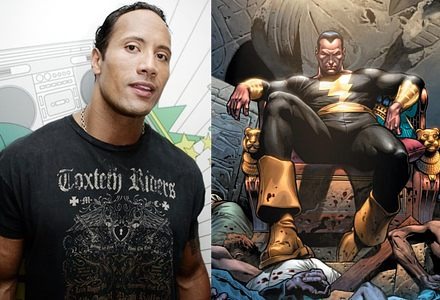 At the Southland Tales junket earlier today, Dwayne "The Rock" Johnson gave us a big update on the big screen adaptation of the Captain Marvel comic book Shazam! Things have changed and Johnson is now playing Black Adam.
"I just met with Pete Segal last night," The Rock told /Film. "It was a great meeting on Shazam. We're just waiting for John August to hand in another draft, which will probably be handed in months from now because of the strike."
"And not Shazam but Black Adam, that's now very clear. He's a character that I can't wait to play. When they first approached me about playing Captain Marvel, they said there is also this interesting character too called Black Adam. This was about a year ago on the set of Get Smart. I said 'Oh, Okay, Great'.
But it was comic book fans that convinced Johnson to take on the Black Adam character.
"We went down to Comic Con to show the trailer for Get Smart. And there I was talking to all the fans and they were like 'You should really look into Black Atom.' So I said to some writer or journalist that I think it's up to the fans, they should just let me know. And they just let me know in spades – It's Black Adam! And that dictated to the studio, to the director..."
According to Wikipedia, Black Adam is a morally ambiguous nature has his character fall between the lines of heroism and villainy. The character was originally created in 1945 for the premiere issue of Fawcett Comics' Marvel Family comic book by Otto Binder and C. C. Beck as an "evil" version of Fawcett's popular Captain Marvel character. By the early 21st century, Adam had been redefined by DC writers Jerry Ordway, Geoff Johns, and David S. Goyer as a corrupted anti-hero attempting to clear his name. Adam's personal goal is to enforce justice; however, his ideals of justice, often involving hostile action or execution, are considered extreme by many of the heroes who have attempted to give the former supervillain a second chance. This current version of Black Adam is the former ruler of Kahndaq, a fictional Middle Eastern nation in the DC Universe.