Box Office Tracking: Bee Movie Headed For $40M Opening; Gangster In The High $40M's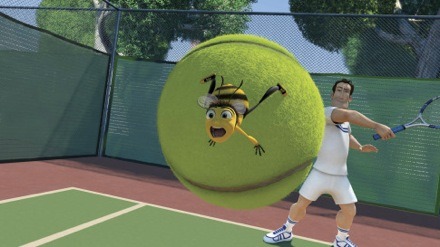 October was a disastrous month for the movie business. Only Tyler Perry's Why Did I Get Married? (Lionsgate) and last weekend's Saw IV (Lionsgate) enjoyed opening weekends of $20M+, and, if it weren't for The Game Plan (Disney), which opened in September but did steady business all month, it would have been even worse.
Christmas is coming early for America's exhibitors and for Universal and Dreamworks/Paramount. My October 24 speculation that both American Gangster (Universal) and Bee Movie (Dreamworks/Paramount) would open to $40M+ appears to be on the mark. It's an easy call for American Gangster, which I'll detail later, but it's a bit more uphill for the once seemingly-unstoppable Jerry Seinfeld comedy from Dreamworks.
Industry tracking for Bee Movie is "solid but unspectacular", which matches the lukewarm response the film is getting from critics. Rotten Tomatoes puts Bee Movie at 51% Fresh and MetaCritic checks in at 53% Positive. Tracking indicates it will "open", but it I suspect that this movie's legs will carry it to a smaller "honey pot" than the $175M-$200M that Dreamworks might be hoping for.
With 11% Un-Aided Awareness, Bee Movie has more "buzz" than last year's Flushed Away, which opened at just 8%, but well less than half of the 29% measured for last November's animated hit Happy Feet. Bee Movie has an 80% Total Aware, in the ballpark with Happy Feet's 87% and well-ahead of Flushed Away's 65% Awareness on opening day, and Seinfeld's animated pic is even more on par with Happy Feet in terms of Definite Interest. The singing penguins had 38% Definite Interest compared to 36% for Bee (Flushed Away was well-behind at 28%).
In the all-important First Choice column, Bee Movie actually comes out the winner.
FIRST CHOICE
Bee Movie – 14%
(Males Under 25 â€" 9%, Males 25 Plus â€" 9%
Females Under 25 â€" 13%, Females 25 Plus â€" 24%)
Happy Feet â€" 11%
(Males Under 25 â€" 3%, Males 25 Plus â€" 6%
Females Under 25 â€" 22%, Females 25 Plus â€" 12%
Flushed Away â€" 9%
(Males Under 25 â€" 5%, Males 25 Plus â€" 12%
Females Under 25 â€" 10%, Females 25 Plus â€" 11%)
Bee Movie seems the most acceptable of the 3 films among Males, and Moms definitely have Jerry's Bee on their radar with a 24% First Choice.
In the final analysis, Dreamworks will succeed here with an opening weekend number that is near the $41.5M that Happy Feet pulled off in '06, and it should easily double its $18.8M performance with Flushed Away on the same weekend last year. I'm putting Bee Movie in the $40M-$43M range for its first 3 days, but I'm not expecting a multiplier anything close to the 4.77 that helped achieve Happy Feet's $198M domestic.
Some questioned my $40M+ forecast for American Gangster when I offered my early tracking preview. Ridley Scott's long-awaited Gangster (Universal), starring Oscar winners Denzel Washington and Russell Crowe, is an absolute tracking juggernaut with remarkable numbers across the board.
The gritty, R-rated Oscar contender had dramatically better tracking, 10 days away from release, than last year's Best Picture The Departed (Warner Bros) had at the same point of its advance campaign. Now the week-of tracking for Gangster stacks up well with March's R-rated action sensation 300.
I'm told that as of Sunday (10/28), American Gangster had 14% Un-Aided Awareness compared to the 17% mark posted by 300 on the Sunday prior to its release. Un-Aided Awareness is the best tracking measure for audience buzz. It means that moviegoers surveyed are talking about Gangster with no prompting.
Virtually everyone has heard about American Gangster with a Total Aware of 88%, far stronger than the 63% for Zack Snyder's swords and sandals epic. Gangster is also outpacing 300 in Definite Interest 57%-52% and First Choice 34%-24% at the comparable point of their respective marketing cycles.
Once we go inside the First Choice demographic breakouts for these 2 films, it's clear that 300 was slightly stronger with Males Under 25, but Females are far more interested in Gangster.
FIRST CHOICE â€" Males Under 25
300 â€" 49%
American Gangster â€" 41%
FIRST CHOICE â€" Males 25 Plus
American Gangster â€" 49%
300 â€" 26%
FIRST CHOICE â€" Females Under 25
American Gangster â€" 24%
300 â€" 7%
FIRST CHOICE â€" Females 25 Plus
American Gangster â€" 24%
300 â€" 12%
It's very tough for an urban film with a strong R-rating to reach $50M on opening weekend, but American Gangster is a rare movie, and it's got a shot. Excellent reviews, Oscar-winning producer, director and cast, coolness with Under 25's, interest among females of all ages, and great appeal amongst African Americans â€" it all adds up to $47M-$50M (Well-under the feverishly fanboy-driven $70.8M delivered by 300). I'm a bit on a limb with this call, but I like my chances. I feel safe in predicting that American Gangster will win the weekend, and, if it manages $20M on Friday, I suspect that $50M is a real possibility.
If both Bee Movie and American Gangster can top $40 million this weekend, it will mark only the third time in modern box office history that two movies have opened that big on the same day. The double $40 million opening feat was first accomplished back in 2005 when The Longest Yard grabbed a $47.6 million opening and Madagascar delivered a $47.2 million weekend. The trick was duplicated last November, when Happy Feet scored a three-day of $41.5 million opposite Sony's Casino Royale with $40.8 million during the same frame.
As for the other wide release, Martian Child (New Line) starring John Cusack, a 43% Total Aware, 28% Definite Interest and 4% First Choice should yield no more than $2M-$4M.
Here are my Final Predictions for this weekend (November 2-4):
1. American Gangster – $48.75M
2. Bee Movie – $41M
3. Saw IV – $13.1M
4. Dan in Real Life – $7.8M
5. The Game Plan – $3.7M
6. Martian Child – $3.6M
7. Michael Clayton – $3.4M
8. 30 Days of Night – $3.3M
9. Tyler Perry's Why Did I Get Married – $2.75M
10. Gone Baby Gone – $2.7M
Read More at Fantasy Moguls.